Beekeeping for Bee-ginners, 5 Class Course
June 23, 2019, 4:00pm

–

6:00pm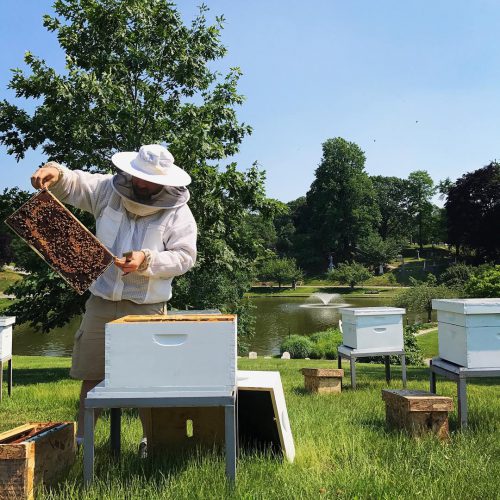 4PM to 6PM, June 23 and 30, and July 7, 21, and 28
(One course, not separate classes)
This 5 class course goes beyond the basics, and into the nitty gritty of beekeeping. You will finish this course prepared to embark on your own beekeeping adventure! This series of two-hour classes will teach you about bee behavior and biology, and best practices in: pest and disease management, feeding, beehive construction, beekeeper safety precautions, winterizing your hive, honey harvesting, and more! The course is taught by Green-Wood's Head Beekeeper, Nick Hoefly of Astor Apiaries. All 5 classes must be attended for participation in this course, and students will receive a certificate of completion. The first 4 classes will take place in our Modern Chapel, and the final class will be a "live action" class with full equipment at the beehives. Spots are limited to 20 students, so don't miss out!
This class is intended for adults, and may not be suitable for people with bee sting allergies. Signing a safety and liability waiver is required for participation.
$200 for non-members, $195 for members of Green-Wood and BHS, $150 for current beehive sponsors
Current 2019 Beehive Sponsors, please call John Connolly at (718)210-3073 to get your discounted tickets (limit 2 per sponsor). Not a Beehive Sponsor, but want to become one? Click here!
Location: The Modern Chapel, located just inside our main entrance (5th Ave at 25th Street). Click here for our inclement weather policy.