(Sold Out) 4:00 p.m. Tales of Green-Wood & Champagne at Twilight
November 4, 2012, 4:00pm

–

6:00pm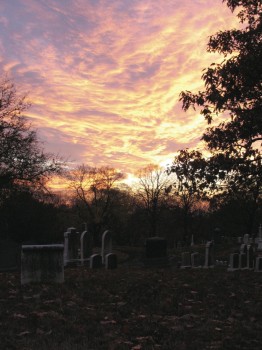 Green-Wood, beautiful and inspiring in its autumn colors, will serve as backdrop for this special adults-only late afternoon event that unites the storyteller's art with history.
Led by award-winning storyteller Robin Bady and Green-Wood'Äôs Manager of Outreach & Education Steven Estroff, Tales of Green-Wood takes place on the first day of daylight savings time (sunset is 4:48 pm) and culminates at the highest point in Brooklyn, Green-Wood's Battle Hill.
With Bady as guide, travel through Green-Wood-inspired stories of goddesses, pharaohs, tricksters and madmen. Then experience one of New York's great views — sunset from Battle Hill. Enjoy a champagne toast as the lights of lower Manhattan and New York Harbor shine and shimmer at twilight.
Walking tour/Special event: $15 for members of The Green-Wood Historic Fund / $20 for non-members. Ticket includes two glasses of champagne or sparkling cider. Bring a flashlight!
This event is sold out. Click here to go back to our calendar page.