7 p.m. Tara O'Grady & The Black Velvet Band
March 10, 2012, 7:00pm

–

11:00pm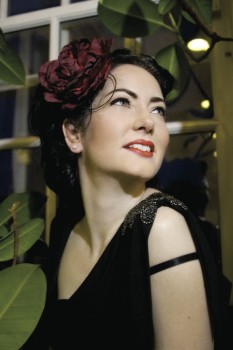 SPECIAL EVENT IN GREEN-WOOD'S HISTORIC CHAPEL
"Danny Boy" don't mean a thing if it ain't got that swing! Join us for a fabulous pre-St. Patrick's Saturday night of dancing, drinks and the sophisticated swing of Tara O'Grady & The Black Velvet Band in a stunning historic setting.
O'Grady and her band perform an irresistible mix of traditional Irish songs and jazz standards set to a swing jazz beat. Honored by the Irish Voice as one of the "Most Influential Women of 2010," O'Grady has a voice that's been compared to divas of days gone by and a look that conjures the Golden Age of Hollywood. O'Grady and her band perform regularly at Swing 46 Jazz and Supper Club, The Astor Room and Radegast Hall.
Tickets are $90 per couple or $50 per person for members of the Green-Wood Historic Fund and $100 per couple or $60 per person for non-members. Tickets include drinks and light hor d'oeuvres. Advance reservations required. Proceeds from this event support the Green-Wood Historic Fund.
To purchase tickets, call 718-210-3080 or order online using the Ticket Information box below — click to Order Now or Enter Promotional Code (Member ID#) and you will be redirected to our Eventbrite ordering page.
If you are using a credit card linked to a non-U.S. address, or if you've typed in a billing address that does not match that of your credit card, you may see an error message when ordering. If so, please call us at 718-210-3080 from Mon-Fri 8am-4pm Eastern Standard Time or email us at info@greenwoodcemetery.org and we will help you complete your order. Thank you.