Historic Trolley Tours
August 18, 2019, 1:00pm

–

3:00pm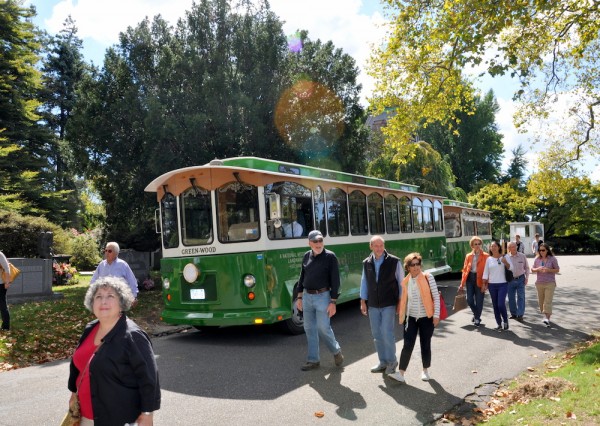 Experience the most magnificent and historic 478 acres in New York City. Join our expert tour guides to hear fascinating stories of Green-Wood's permanent residents, see breathtaking views of Manhattan, tread where George Washington and his troops fought the Battle of Brooklyn, and much more (scroll down for schedule of different themed tours available).
$15 for members of Green-Wood. / $20 for non-members. Seating is limited. Trolley tours routinely sell out. We strongly suggest that you reserve tickets in advance to ensure a spot for your preferred day!
Green-Wood trolley tours are fully accessible and ADA compliant. In order to accommodate a wheelchair or other mobility aids on the trolley, arrangements must be made in advance. Please call (718) 210-3080, ext. 1. Please note that portions of the tour take place outside the trolley, however attendees may stay seated in the trolley if they wish. Please contact the Historic Fund for more information.
For this program you will check in at the Gothic Arches, right at the main entrance. Trolley tours are run rain or shine, with the exception of dangerous conditions as determined by Green-Wood. Click here for our inclement weather policy.
Not a Member?
New or renewing members are entitled to one free tour ticket a year! This could be a free ride: Click here for all of our membership levels and information. Free tickets must be arranged by phone. Please call (718)210-3080 to redeem.
Already a Member?
Click the "Enter promotional code here (members, use your ID#)" link in the bottom right corner of the ticket box and enter your ID number to apply your ticket discount. Please note that the Senior, Individual and Student membership levels are limited to only one Member Ticket per event (for additional tickets, please purchase at the regular price).
Questions?
Don't know your Member ID number? Not sure which ticket or membership type to order? Call 718-210-3080 or email contactus@green-wood.com with any questions.
Trolley Tour Schedule:
Wednesday, Feb. 6 at 1 PM: Hidden Gems of Green-Wood
Sunday, Feb. 10 at 1 PM: The Far Side of Green-Wood
Wednesday, Feb. 13 at 1 PM: Discover Green-Wood
Wednesday, Feb. 20 at 1 PM: The Far Side of Green-Wood
Sunday, Feb. 24 at 1 PM: Hidden Gems of Green-Wood
Wednesday, Feb. 27 at 1 PM: Hidden Gems of Green-Wood
Wednesday, Mar. 6 at 1 PM: Discover Green-Wood
Sunday, Mar. 10 at 1 PM: Discover Green-Wood
Wednesday, Mar. 13 at 1 PM: The Far Side of Green-Wood
Wednesday, Mar. 20 at 1 PM: Hidden Gems of Green-Wood
Wednesday, Mar. 27 at 1 PM: Discover Green-Wood
Sunday, Mar. 31 at 1 PM: The Far Side of Green-Wood
Wednesday, Apr. 3 at 1 PM: The Far Side of Green-Wood
Sunday, Apr. 7 at 1 PM: Hidden Gems of Green-Wood
Wednesday, Apr. 10 at 1 PM: Hidden Gems of Green-Wood
Sunday, Apr. 14 at 1 PM: Discover Green-Wood
Wednesday, Apr. 17 at 1 PM: Discover Green-Wood
Sunday, Apr. 21 at 1 PM: The Far Side of Green-Wood
Wednesday, Apr. 24 at 1 PM: The Far Side of Green-Wood
Sunday, Apr. 28 at 1 PM: Hidden Gems of Green-Wood
Wednesday, May 1 at 1 PM: Hidden Gems of Green-Wood
Sunday, May 5 at 1 PM: Discover Green-Wood
Wednesday, May 8 at 1 PM: Discover Green-Wood
Sunday, May 12 at 1 PM: The Far Side of Green-Wood
Sunday, May 19 at 1 PM: Hidden Gems of Green-Wood
Wednesday, May 22 at 1 PM: The Far Side of Green-Wood
Sunday, May 26 at 1 PM: Discover Green-Wood
Wednesday, May 29 at 1 PM: Hidden Gems of Green-Wood
Sunday, June 2 at 1 PM: The Far Side of Green-Wood
Wednesday, June 5 at 1 PM: Discover Green-Wood
Sunday, June 9 at 1 PM: Hidden Gems of Green-Wood
Wednesday, June 12 at 1 PM: The Far Side of Green-Wood
Sunday, June 16 at 1 PM: Discover Green-Wood
Wednesday, June 19 at 1 PM: Hidden Gems of Green-Wood
Sunday, June 23 at 1 PM: The Far Side of Green-Wood
Wednesday, June 26 at 1 PM: Discover Green-Wood
Sunday, June 30 at 1 PM: Hidden Gems of Green-Wood
Wednesday, July 3 at 1 PM: The Far Side of Green-Wood
Sunday, July 7 at 1 PM: Discover Green-Wood
Wednesday, July 10 at 1 PM: Hidden Gems of Green-Wood
Sunday, July 14 at 1 PM: The Far Side of Green-Wood
Wednesday, July 17 at 1 PM: Discover Green-Wood
Sunday, July 21 at 1 PM: Hidden Gems of Green-Wood
Wednesday, July 24 at 1 PM: The Far Side of Green-Wood
Sunday, July 28 at 1 PM: Discover Green-Wood
Wednesday, July 31 at 1 PM: Hidden Gems of Green-Wood
Sunday, Aug. 4 at 1 PM: The Far Side of Green-Wood
Wednesday, Aug. 7 at 1 PM: Discover Green-Wood
Sunday, Aug. 11 at 1 PM: Hidden Gems of Green-Wood
Wednesday, Aug. 14 at 1 PM: The Far Side of Green-Wood
Sunday, Aug. 18 at 1 PM: Discover Green-Wood
Wednesday, Aug. 21 at 1 PM: Hidden Gems of Green-Wood
Sunday, Aug. 25 at 1 PM: The Far Side of Green-Wood
Wednesday, Aug. 28 at 1 PM: Discover Green-Wood