1 p.m. Northern Exposure Trolley Tour
August 18, 2013, 1:00pm

–

3:00pm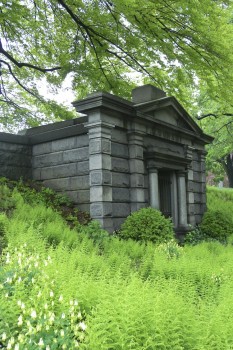 Take a walk on the Northern side on this trolley tour with veteran guide Ruth Edebohls. Some of the most fascinating mausoleums and monuments in Green-Wood are not necessarily the ones with the most famous names.
On this tour of the Northern section of Green-Wood's 478 acres, hear the stories of the Father of Baseball, a pioneering embalmer, the scandalous wife of an equally scandalous Civil War general, the "best woman who ever lived," Charles Ebbets, Johnny Torrio, Elmer Sperry, Townsend Harris, F.A.O. Schwarz and more.
A premier tourist attraction of the 19th century, Green-Wood today still has the power to attract and amaze visitors with its beauty, grandeur and history.
$10 for members of Green-Wood/$15 for nonmembers
Not a Member?
Get a free ticket with a membership at left and purchase additional Member Discount Tickets if desired. Click here for all of our membership levels and information.
Already a Member?
Click the "Enter promotional code here (members, use your ID#)" link in the bottom right corner of the ticket box and enter your ID number to apply your ticket discount. Please note that the Senior, Individual and Student membership levels are limited to only one Member Ticket per event (for additional tickets, please purchase at the regular price).
Questions?
Don't know your Member ID number? Not sure which ticket or membership type to order? Call 718-210-3080 or email contactus@green-wood.com with any questions.