1 p.m. "A Fate Worse Than Death: The Perils of Being a Famous Corpse" Book Talk
April 28, 2013, 1:00pm

–

2:00pm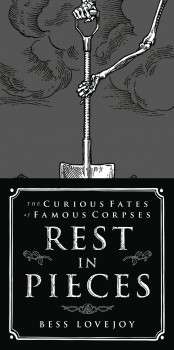 The ultra-famous are always in high demand. Bess Lovejoy, author of Rest In Pieces: The Curious Fates of Famous Corpses, offers this funny, tragic and true look at the threats famous bodies have faced through the ages: furta sacra (theft of saints' bodies), relic collectors, phrenologists, and crazed fans.
At Green-Wood, Lovejoy will focus on famous New Yorkers: organ harvesters' plans for the body of broadcaster Alistair Cooke, the man who so loved Thomas Paine that he attempted a resurrection, and many more. Blending biography and trivia with great images, Lovejoy's topic is the perfect, lighthearted way of pondering our attitudes to mortality, fame and the body. After, meet the author and pick up a copy of this enlightening and enjoyable book.
Tickets are $10 for members and $15 for nonmembers.
Not a Member?
Get a free ticket with a membership at left and purchase additional Member Discount Tickets if desired. Click here for all of our membership levels and information.
Already a Member?
Click the "Enter promotional code here (members, use your ID#)" link in the bottom right corner of the ticket box and enter your ID number to apply your ticket discount. Please note that the Senior, Individual and Student membership levels are limited to only one Member Ticket per event (for additional tickets, please purchase at the regular price).
Questions?
Don't know your Member ID number? Not sure which ticket or membership type to order? Call 718-210-3080 or email contactus@green-wood.com with any questions.