Pete Hamill, Brooklynite, journalist, friend of "The Green-Wood," now lies at The Green-Wood Cemetery. Hamill was a legend–a high school dropout who became a writer, rose to be the editor of the New York Daily News and the New York Post, and became a leading voice–and a legend–of Brooklyn and New York. He died on Wednesday, August 5, at the age of 85.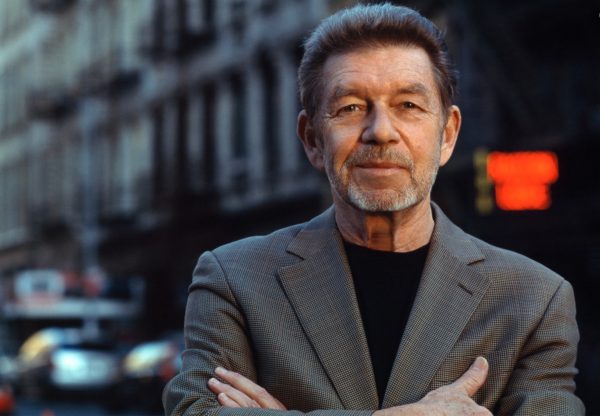 Pete was from a large family. His parents were both Irish immigrants. He had five brothers and one sister–and he was the big brother to them all. He and his siblings grew up at 378 Seventh Avenue, between 11th and 12th Streets, in Brooklyn. Late in life, Pete and his wife, Fukiko, returned from Manhattan to live in his beloved Brooklyn.
Here is the loving eulogy delivered by his brother, Denis, who also is a journalist and writer, describing his brother as a "storied New York storyteller" and concluding, "Pete Hamill is going to be fine."
Steve Couzzo, in the Post, paid tribute to Hamill's short and tumultuous time in 1993 as editor of that newspaper, repeating some of Pete's one-liners to his adoring staff, in a piece headlined "Why the Post will never forget tabloid journalism hero Pete Hamill."
Pete had a way with words. He could write them–in newspaper columns and in books. And he could speak them, in that distinctive Brooklyn voice of his, whether rallying his newspaper writers or inspiring others. I met him nine years ago, on September 15, 2011, when he was awarded the DeWitt Clinton Award for Excellence by The Greenwood Historic Fund at its fourth annual benefit. I recall his remarks, upon accepting the award, in that unmistakable voice, spoken without notes, but with such passion, so personal. He always referred to that place that he and so many others love, not as "The Green-Wood Cemetery," its formal name, or "Green-Wood Cemetery," or just "Green-Wood," but uniquely as "The Green-Wood," as if nothing more was necessary, as if that said it all.
A few years after I met Pete, I was working on Green-Wood's first app–and thought that Pete's voice would be perfect for users to hear speaking of his love for, and appreciation of, Green-Wood. So I contacted him and he was very gracious. I went to his office and we recorded the piece. Here is Pete, speaking the words that he spoke that night in 2011, with just a few edits made for their use in the app. And, if you prefer to read his 2011 remarks, here they are:
This is a great honor. When I was a boy, long before there was a Prospect Expressway, I could walk here in the Green-wood, first with my mother, who had an eye for free entertainments for her tn'o older sons in those Depression years. Then, a few years later, I visited with my friends. I must have been 11 when I first climbed the fence with them, in the leafy darkness of the north side of the grounds. Four or five of us would somehow make it over the fence, to play hide-and-seek among the tombstones. This was, of course, a test of our own fears. But it was also an exercise in imagination. As I searched in the dark, wondering if some stranger, some monster, some escaped convict was lurking there too, I was starting to become a writer, though I did not know it at the time. When I first saw David Lean's wonderful version of Great Expectations, that escaped convict created by Charles Dickens suddenly appeared, and I knew where he was lurking: in the shadows of the Green-wood. Later, when I had become a great comics fan, I knew where Denny Colt — "The Spirit" — lived. In that great comic book, they called the cemetery, Wildwood. I knew it was the Green-wood.
So being here this evening, to be receiving this wonderful award, is both an honor and a delight. It is NOT true that I've been given this award because I actually knew DeWitt Clinton. He died in 1828. But if you stand on the hills and gaze at the harbor, you can see his work. Clinton was the man who pushed harder than any others to create the Erie Canal, which transformed our beautiful harbor into the first great American port. That is, he created the New York in which all of us have had the privilege to live. And if you wander this place, you will see the resting places of so many others who added to Clinton's vision. Few saints, many sinners, but people who gave us style and laughter and music and hope. Here lie Leonard Bernstein and Fred Ebb, Eubie Blake and Edward R. Murrow, George Bellows and John LaFarge and Jean Michel Basquiat. Scoundrels too: above all, "the Boss," William Tweed. Mobsters too: Johnny Torrio and Albert Anastasia. And of course the man I first knew as Joe the Blond. Called Crazy Joe Gallo in the tabloids. As a reporter,I covered his burial here and remember his mother calling out at his graveside, "Joey, Joey, we will never forget you, Joey."
It's a marvel of the city, the Green-wood, full of wonder and memory and the history of this city. Thank you all for this honor.
Back in 2006, Pete and Fukiko visited Green-Wood, having arranged to tour the grounds with the cemetery's president, Rich Moylan. They rode across Green-Wood's hills and around its ponds for several hours. As the conversation went back and forth, Pete mentioned that he might be interested in picking out a final resting place at Green-Wood. Rich suggested that Pete look around as they proceeded and, if Pete saw a spot that interested him, the cemetery's surveyor would try to find him a grave there. As Rich recalls, "Towards the latter part of the tour, we came to Boss Tweed. For Pete, this was the spot. This was where he wanted to be." William Magear Tweed, popularly known as "Boss Tweed," made it his life's work to steal millions from New York City in the 1870s–and is still cited in news reports today as the embodiment of civic corruption. Soon after that ride around the cemetery, in August of 2006, Pete and Fukiko purchased a lot next to Boss Tweed's.
Well, you may ask, "Why Boss Tweed?" In 2005, a year before Pete committed to spending eternity with "the Boss," he reviewed Kenneth D. Ackerman's biography, Boss Tweed:  The Rise and Fall of the Corrupt Pol Who Conceived the Soul of Modern New York, for The New York Times. Pete answered this question of "why Boss Tweed" when he started his review with this:
If the gods in their wisdom were to sentence me to 30 days in a prison cell with either Boss Tweed or Al Gore, I would need about 11 seconds to choose my cellmate. Welcome home, Boss.
Condemned for my sins to an ocean cruise, I'd rather share a cabin with Tweed than any evangelist, reformer or improver of public morals, dead or alive. Give me Tweed before any crusader for earthly utopias: religious, Marxist, fascist or neocon. Save me from tinhorn messiahs, and from almost every Republican or Democrat now holding public office. In this era of true believers and invincible mediocrity, give me Tweed.
Pete described Ackerman's book as "the story of the man who died in 1878 and remains the epitome of big-city corruption. Tweed is a wonderfully vivid subject, a man of gigantic, Rabelaisian hungers. He seems always to have wanted more. More food. More money. More power. Unfortunately, for a long time he got what he wanted." Pete added, "His company could be entertaining."
Pete concluded his review of Tweed's biography–and Tweed himself–with this:
Surely when the news of his death spread through the city, some of Tweed's constituents must have remembered the time in 1875 when he was taken for imprisonment to Blackwell's Island. He was asked by a jailer to state his religion, and answered "none." Then he was asked his occupation.
"Statesman," Boss Tweed answered.
Across the years, I can still imagine the wink, and the cynical smile, and the dark laughter. Welcome to the cell, O lost boss. You can have the bottom bunk.
Pete Hamill now rests at "The Green-Wood," his playground as a youth, in a lot adjoining that of Boss Tweed. Rest in Peace, Pete. No more climbing the fences to get in. And the Boss will be in the bottom bunk.