I enjoy collecting. And, as a person fascinated by our history, one of the things I like to collect is photographs of 19th century New York City. Such photographs help us understand a world both different from ours, but one that has profoundly affected our own world. They give us perspective on the human condition–what has changed, what remains the same, over time. These old photographs come in several formats: stereoviews, cabinet cards, cartes de visite, and magic lantern slides. I recently donated my collection of about 1000 magic lantern slides–mostly photographic images of late 19th and early 20th century New York City–to the Green-Wood Historic Fund. Green-Wood is very much a place of New York City in this era–the heyday of the magic lantern slide was from about 1890 to about 1920–and it was a perfect place for this collection, which will help us understand the time and the people who are interred there. These photographs, made so that they could be projected for slideshows, whether in public for an admission fee or in one's own parlor, for an evening of entertainment, long before the existence of radio or television or the Internet or video games or Facebook or Twitter, offer us a very special window into that time.
Here's a poignant image, from the collection, of immigrants–so many of whom made this country great–and so many of whom are interred at Green-Wood: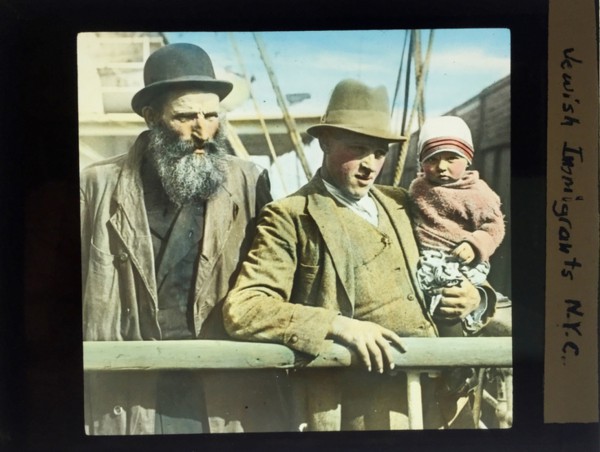 Recently, Fiora Watts, an archival studies student at Pratt, working on her masters, processed this collection. Here's what she has eloquently written about these lantern slides and why they captured her imagination:
In this collection, the viewer encounters buildings, transportation street signs and businesses that have either miraculously survived the passage of time or have long ago faded into the past. We see faces and neighborhoods that look familiar and experience both a shock of recognition and a sense of disquiet—the view is somehow the same, yet everything has changed. We know this place, this city—it is all around us—and yet the lively world we are looking at and the faces that return our gaze through this small square of glass, seemingly so full of life, no longer exist. The lantern slide offers a unique glimpse into this vanished world. 
These slides feature people, buildings, street views, and more. What is very special about them is their clarity: with a magnifier, it is possible to see great details, whether a mustache on a face or the lettering on a sign.
Some of these photographs date from the 1860s but were published as lantern slides several decades after they were taken. For instance, the ruins of P.T. Barnum's Museum, on Broadway, were photographed in March 1868, just after the fire there (Barnum's museums and circuses suffered repeated fires–in 1864, 1865, 1868, and 1872):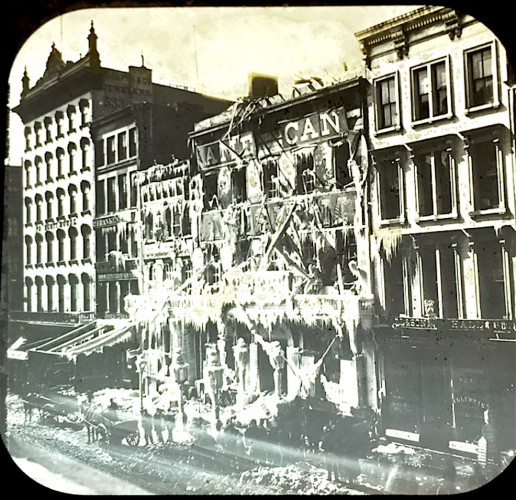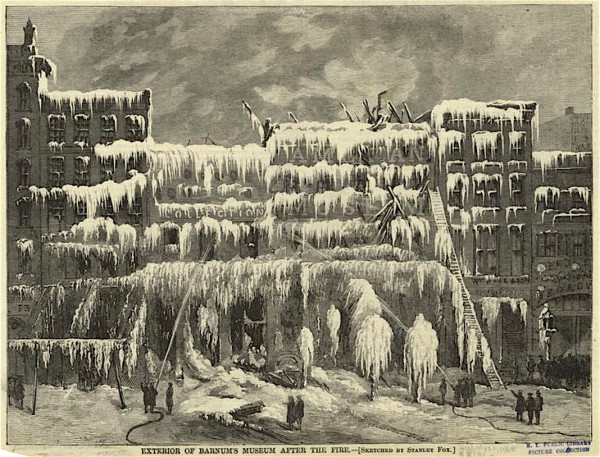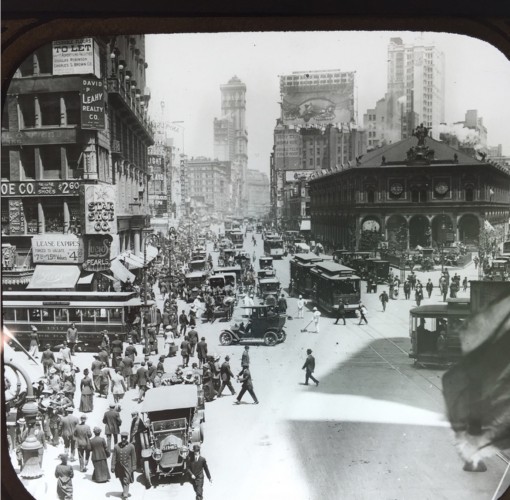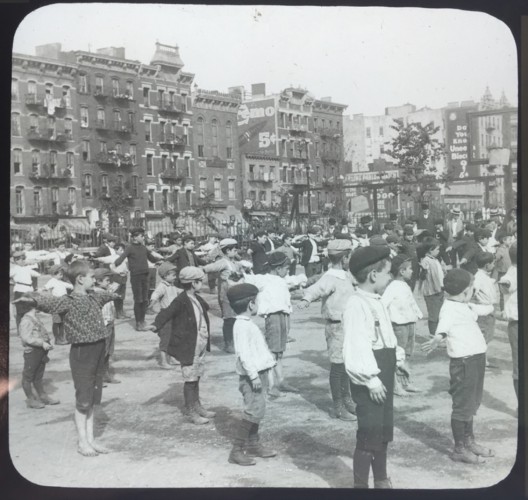 Another reason I wanted to donate these slides to Green-Wood: I knew that they would be processed by a graduate student into an organized and accessible form. Before my donation, I had spoken with Professor Anthony Cucchiara, with whom I have had the pleasure of working at Green-Wood for several years. Tony is a professor emeritus at Brooklyn College, where he worked for many years in archival studies. He now teaches graduate students at Pratt. And Tony has done an amazing job of organizing Green-Wood's huge archives. Before my donation, Tony assured me that he had a graduate student in mind, who was interested in 19th century New York photographs, had done some class work on such images, and would be eager to work on these magic lantern slides.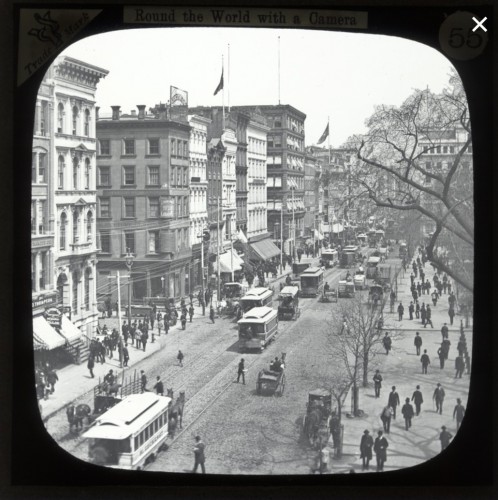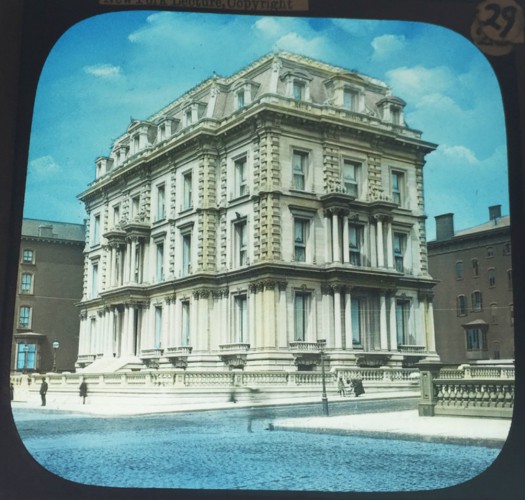 That graduate student was Fiora Watts. And what a great job she did! Fiora cleaned all of the slides, put them into archival sleeves, created a spreadsheet with multiple entries for each, sorted the slides by topic, and made high resolution scans of many of them–which allow us to revel in their great detail. Here is the link to Fiora's website. It is a great place to begin to appreciate magic lantern slides and all of the time and effort Fiora put into this project. It also gives you a wonderful opportunity to explore our heritage, our history. Don't miss her slideshow at the bottom of her page!
There is still some work to be done on this collection. There is more to be studied, more to be scanned. We do hope to soon put many of these slides, in high resolution, on Green-Wood's website–where you will be able to explore them, zooming in on them to glory in their detail–and make your own discoveries of faces, signage, and more, much of it long gone now. The images in this collection are important to understanding and appreciating the history of New York City–as well as that of Green-Wood Cemetery and its permanent residents.