Leonard Jerome (1817-1891), who is interred at Green-Wood, was tremendously wealthy–he spent most of his life speculating in and manipulating stocks on Wall Street, making and losing several huge fortunes. George Templeton Strong, New York City's great 19th century diarist, described him disparagingly as "Jerome (Not the Saint But the Stockjobber)."  One contemporary described him thusly: "He dazzled New York society with the glitter and novelty of his carriages and the costliness of his blooded horses. He excited its dubious admiration by his extravagance and assurance; his fantastic speculations; his scandalous love affairs; his incredible parties." His sister described him as having "much sense of honor and hardly any sense of sin."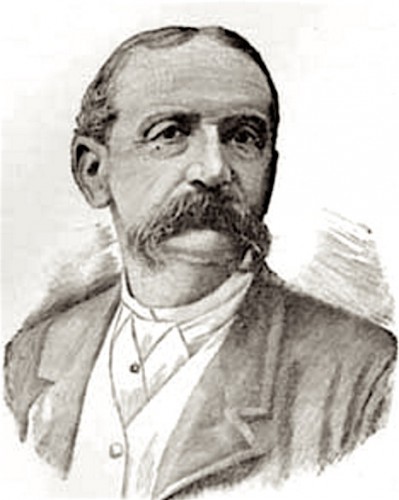 Jerome was an avid sportsman. Yachting and four-in-hand coach driving were passions of his. But his real passion was thoroughbred horses.
Jerome's primary claim to fame today is through his born-in-Brooklyn daughter Jennie: she married Lord Randolph Churchill and gave birth to Winston Churchill, who would lead Great Britain as its prime minister through the darkest days of World War II. Notably, both of Jennie's sisters also married Englishmen–each of them offered substantial dowries to men with titles who were short on money.
Leonard Jerome was also a builder. He built his spectacular mansion at the corner of 26th Street and Madison Avenue, just across the street from the east side of Madison Square Park.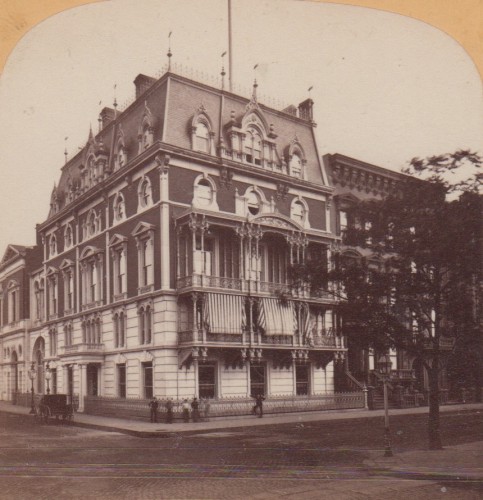 That mansion was designated a New York City landmark in 1965. But the owners of the landmarked mansion were not happy with its designation. They opened up the roof, allowing rain to pour in, then argued that it was no longer viable and got permission to destroy it; one of the great French Second Empire mansions ever built in New York City, designed by Thomas R. Jackson (who is also interred at Green-Wood), it was torn down in 1974.
Jerome, a man of great wealth, power, and ego, also built the not-surprisingly-named Jerome Park Racetrack in what was then Westchester County (it would become a part of the Bronx in 1874). Operated by the American Jockey Club (of which Leonard Jerome was a founder), its primary owners were Leonard Jerome and his good friend August Belmont. Jerome Park opened on September 25,  1866. Here's how Edwin G. Burrows and Mike Wallace described its opening in "Gotham:"
Everyone was there: old money and new, swells and politicos, Vanderbilt and Fisk, Tweed and Morrissey, sportsmen from around the country, all in white hats and gloves. Grant was guest of honor. Ladies attended too–"ladies of fashion, ladies domestic, ladies professionally literary, ladies of birth and culture" (in the words of a Harper's reporter). They felt protected in Jerome's elegant clubhouse, despite the presence of people who arrived via the Harlem Rail Road, and their participation rendered racing both fashionable and respectable.
In 1867, the second year of Jerome Park's operations, The New York Times noted the contrast between the crowds at the Fashion Course, where trotters ran, and those at Jerome Park. As the Times reported, "There was almost the same difference visible, as between an average political meeting in the [Central] Park and the performance of an opera at the Academy of Music." The working class people who went to see the trotters did so because of their interest in the races; those who attended Jerome Park were more interested in the social gathering:
At Jerome Park there were not less than 10,000 people, of whom full one-third were ladies, elegantly dressed, out for a holiday rather than business, and far less intent on the races than on meeting friends and having a free and easy social chat. Not one in ten probably knew or cared a straw about the horses, and their running was merely a pleasant incident in the day's enjoyment. . . . The racing . . . collected the crowd and served as an excuse for going; but even if it were omitted altogether, few would have felt that the day was lost.
Those two names–August Belmont and Leonard Jerome–are legendary in horse racing: Belmont Park in Elmont, New York, which opened in 1905, is one of the leading thoroughbred race tracks in the world, where the third and final leg of the triple crown, "the test of the champion," is run every year. That track was named for August Belmont, financier and sportsman. And the Jerome Stakes, named for Leonard Jerome, have been run annually since 1866; it is the second oldest stakes race in America, and has been continuously run, with the exception of a few years, to this day. In fact, the Jerome Stakes were just run a few weeks ago at Aqueduct Racetrack. Today the Jerome Stakes are a Road to the Kentucky Derby qualifying race.
Jerome Park stretched across 230 acres. Known as the "Daddy of Horse Racing in the United States," it was the first flat racetrack in America, with a grandstand seating 8000, an elaborate ballroom, and a fancy dining room. Facilities for polo, trapshooting, sleighing, and ice skating were offered. In 1876, Jerome Park was the site of the first polo match ever held in the United States. Jerome Park, soon after its opening, became the fashionable place for New York's upper crust to frolic and be seen during the spring and fall. It flourished until 1894, when it closed its gates and was torn down; much of its land became  Jerome Park Reservoir, a part of New York City's water supply.
Scenes at Jerome Park were captured in several 19th century prints. Here it is in 1868: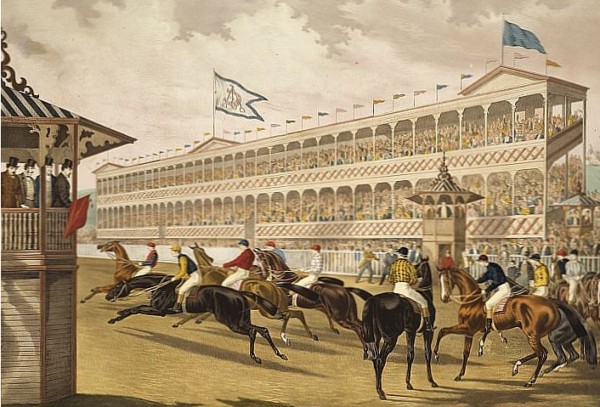 And here it is in 1886: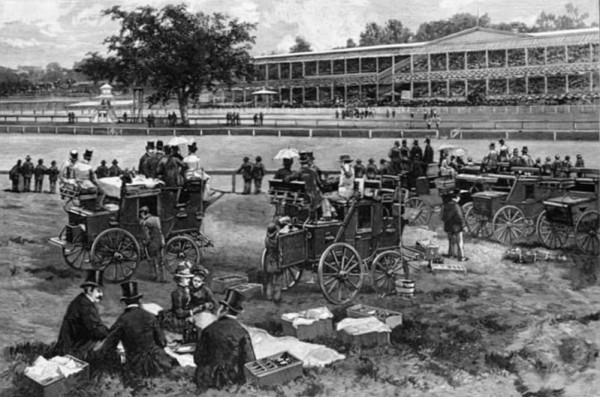 But what of photographs of Jerome Park? They are very rare! I have collected photographs of 19th century New York for decades–and I have only seen photographs of Jerome Park a few times. But–Jeffrey Kraus to the rescue! Jeff is a leading collector of and dealer in 19th century photographs. I have known him for about 35 years now. As far as I know, he has the best collection of stereoscopic views of New York City anywhere–including museums, libraries, and private collections. I have seen hundreds of views in his collection that I have seen no where else. So, thanks to Jeff, here we have an opportunity to share with you photographs of Jerome Park, many of which have not been published since they were issued in the late 1860s.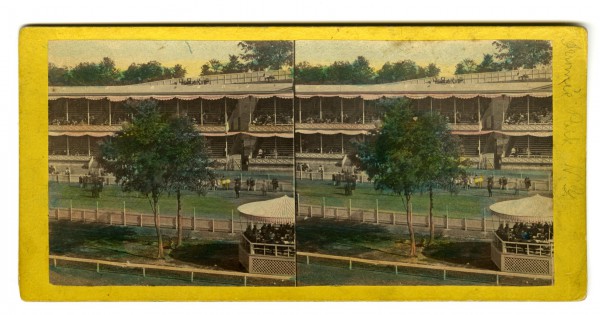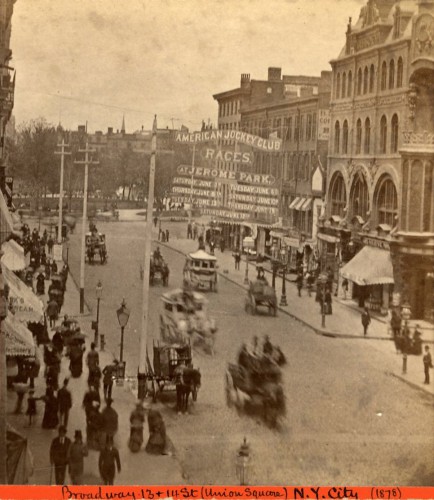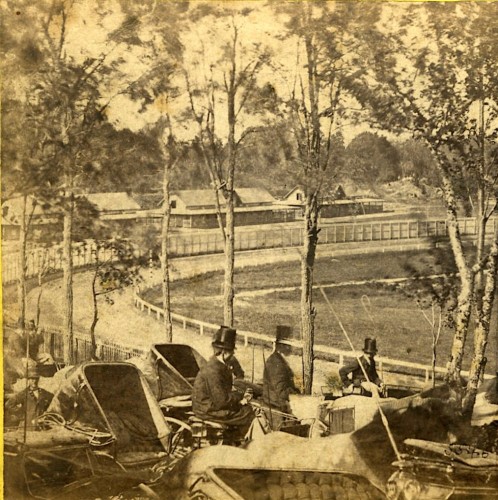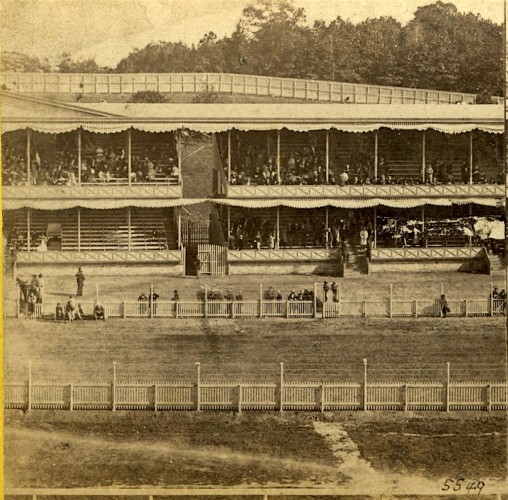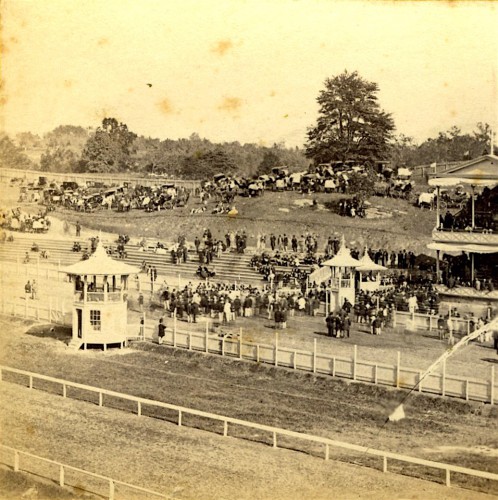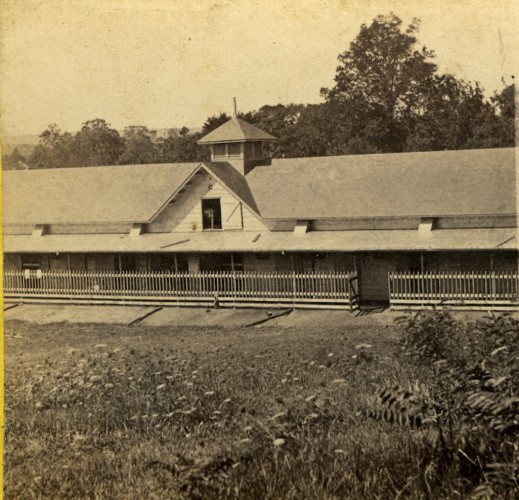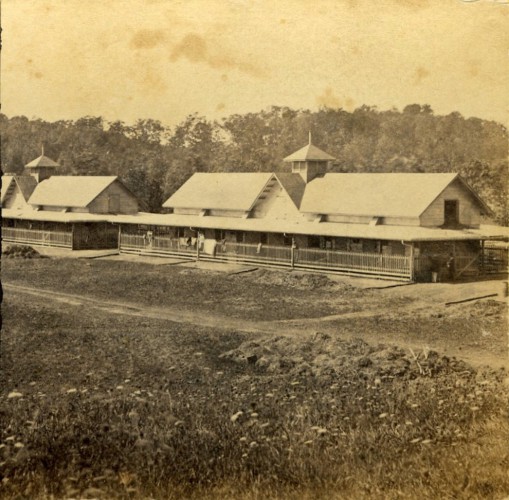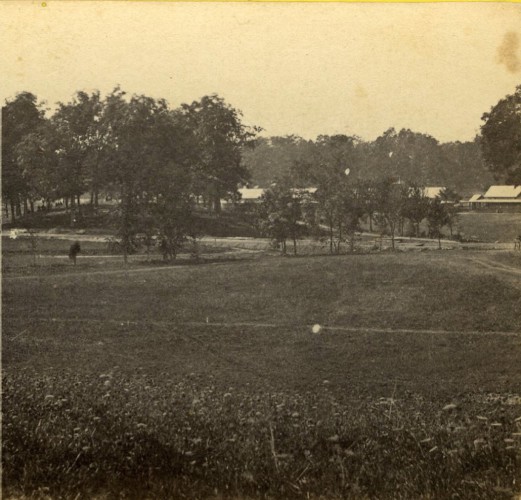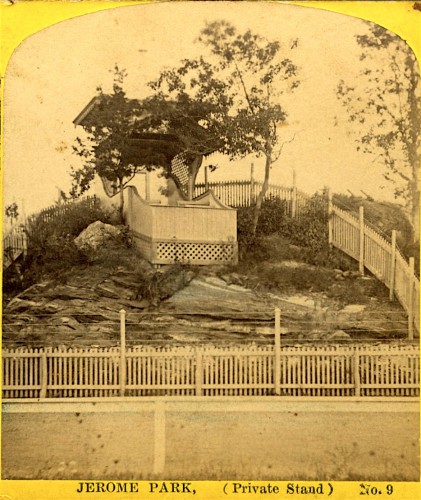 *          *          *
Leonard Jerome built the boulevard that ran from the Harlem River to Jerome Park. It was named for him and still carries his name: Jerome Avenue. Signs for it are prominently displayed along the Cross Bronx "Expressway." When his wife, Clara Hall Jerome (1827-1895), got wind of a plan to remove her husband's name from that street and rename it in honor of some New York City alderman, she immediately sprung into action. First she had bronze "Jerome Avenue" signs cast. Then she hired men to post the signs along the street; that did the trick and it is still named for her husband, more than a century after his death.