Kim Rancourt is a veteran licensed New York City tour guide. He tells me he has led 2,500 tours of Rockefeller Center and now leads tours of Lincoln Center. He also is a big fan of Coney Island. And now of Green-Wood, which he discovered a few years ago. So, Kim, armed with the map of Green-Wood keyed to the book, "Brooklyn's Green-Wood Cemetery: New York's Buried Treasure," decided to head out on the grounds and find the graves of the 250 or so people whom I wrote about in that book. It took Kim 3 years but he has reached his goal, visiting each of those graves. I must say that since that map was published 15 years ago, Kim is the first person who has reported visiting every gravesite on that map. As his reward to himself, Kim bought a copy of the book; he can spend the winter months getting to know the stories of all of these fascinating men and women.
 *          *          *
Since 2002, Green-Wood's Civil War Project has identified approximately 5,000 Civil War veterans and others who played a role in that war who are interred at Green-Wood. We have found many soldiers through diligent research by our volunteers–for instance, they compared the names of 172,000 men who enlisted in regiments from Brooklyn or New York City to the cemetery's database. But we have also been assisted by other researchers. Bob Macavoy researches New Jersey Civil War veterans; he has sent us many names of those interred at Green-Wood. Don Morfe works on Medal of Honor recipients; he has helped us greatly. And, recently Patrick White has been sending us the names of several Civil War soldiers who are interred at Green-Wood. Patrick recently sent along the name of Herman Lorck, who served as a private in the 23rd New York National Guard and as a landsman in the United States Navy. Patrick also noted that the government-issued gravestone for Lorck, who worked as a fish monger after the war, had sunk into the ground and was barely visible.
I went ahead and got the biographical information to Susan Rudin, our volunteer writer. She turned it into a biography. At the same time, I contacted Frank Morelli, supervisor of Green-Wood's Restoration Team, and asked him to reset the stone when he had a chance. It was about two weeks later that I received these photographs from him: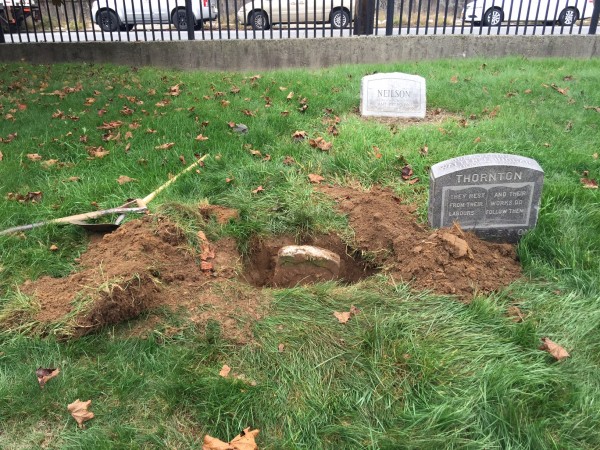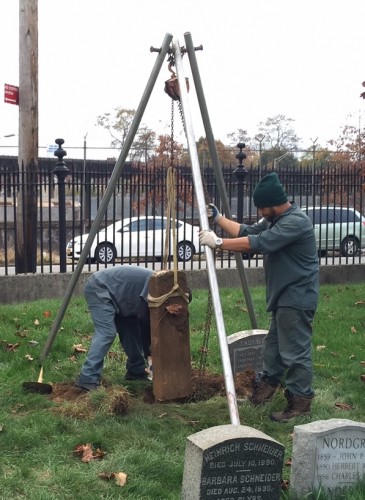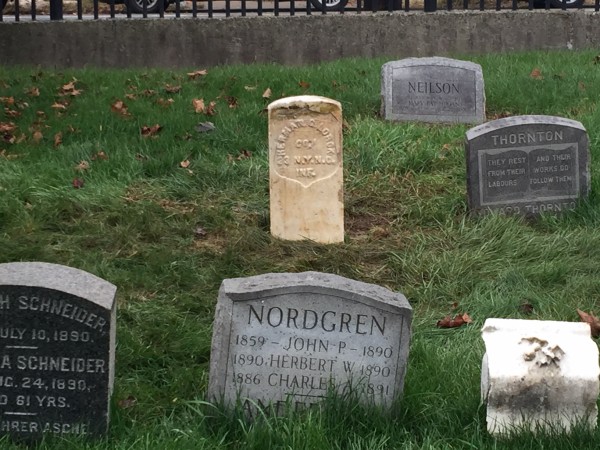 *          *          *
Dennis Riley, archivist at the Brooklyn Navy Yard, recently came to visit Green-Wood. We showed him around our archives, collections, and library. He shared with us information and images from a recently-acquired collection: the Kathryn Steiner and Frank Lackey Papers. Frank Lackey, who is interred at Green-Wood, served in the New York Naval Militia and the United States Naval Reserves for more than 40 years. New York State Governor Franklin Roosevelt appointed Lackey Rear Admiral and commander of the New York's Naval Militia in 1932. Kathryn Steiner was Frank Lackey's daughter. She sponsored the U.S.S. Brooklyn and christened it with a bottle of champagne at its launch at the Brooklyn Navy Yard in 1936.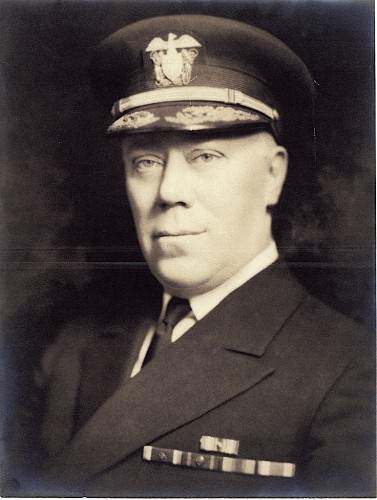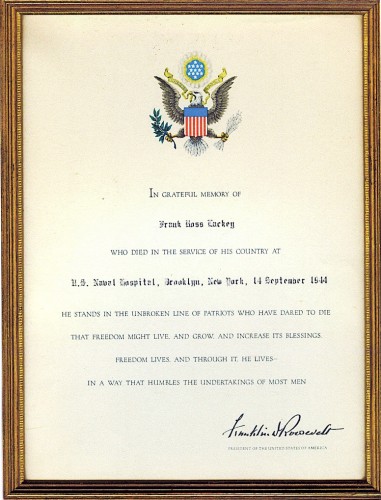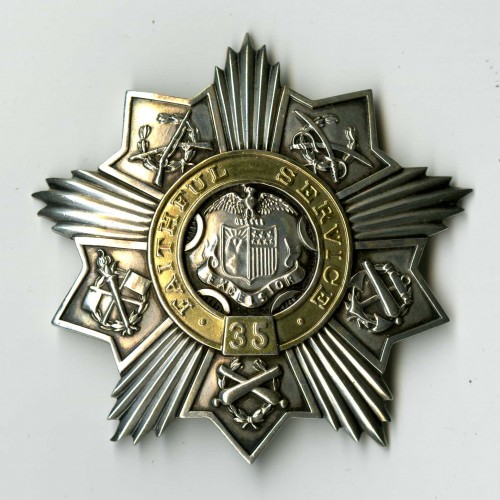 Frank Lackey died and was interred at Green-Wood in 1944, as World War II raged. Dennis shared with us photographs of his interment. They offer fascinating views of Green-Wood more than 70 years ago–a period for which few photographs of Green-Wood exist.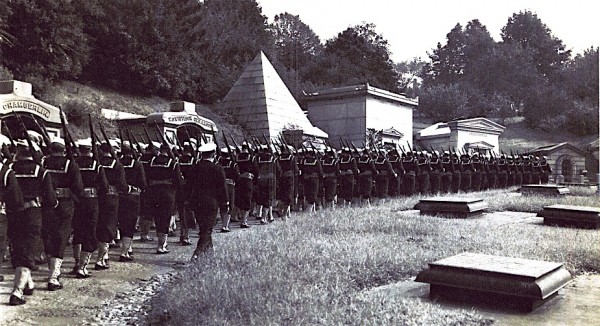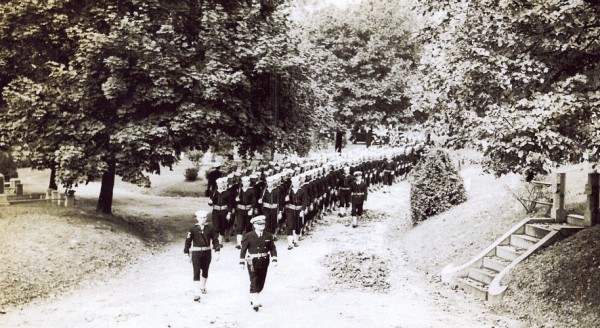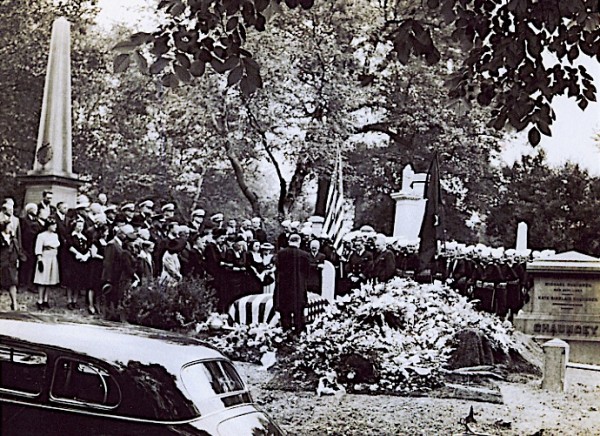 Kathryn Jane Lackey Steiner grew up at 1223 Union Street in Brooklyn. She graduated from Erasmus Hall High School and Brooklyn Law School. Admitted to the New York State bar in 1937, she then worked for the Equitable Life Insurance Company. She died in 1992 and was interred at Green-Wood. Her daughter–also Rear Admiral Frank Lackey's granddaughter–recently donated this collection to the Brooklyn Navy Yard.
Thanks to Dennis Riley, archivist of the Brooklyn Navy Yard Development Corporation, for sharing this material with us.