In the fall of 2002, our first Historic Fund volunteers began working on our Civil War Project, searching Green-Wood's grounds for any sign of Civil War veterans. Since that time, hundreds of volunteers have stepped forward, researching Green-Wood's permanent residents, writing biographies, processing archival materials, working at the Historic Fund cart to greet visitors, appearing in costume and in character at our Open Houses weekends, and staffing a wide variety of events. We even have a very skilled genealogist out in California–a retiree–as well as a high school student in Tennessee–who volunteer as researchers in our Civil War Project, searching for obituaries, muster rolls, pension records, and photographs that help us tell the stories of our Civil War veterans. You can't compare 172,000 names of Civil War soldiers who enlisted in New York City and Brooklyn to the cemetery's database without volunteers. You can't archive thousands and thousands of documents without volunteers–many of them graduate students in archives and library sciences. And you can't offer a jam-packed schedule of tours and events without volunteers. In doing all this volunteer work, our volunteers have the satisfaction of knowing that they are making a valuable contribution to Green-Wood while meeting wonderful people.
Yesterday, we held our annual Volunteers' Holiday Party in the Historic Chapel to thank our dedicated volunteers for their invaluable work. It was great to see, all gathered together, so many individuals who have contributed so much to Green-Wood. Thanks to all of you–and to those volunteers, as well, who were unable to make it to the party. Your work is greatly appreciated!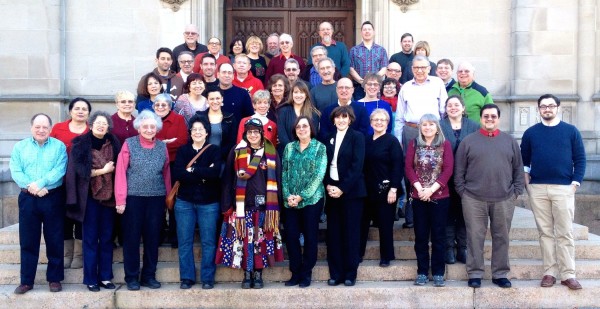 If you would like to find more information about volunteering at Green-Wood, click here. Please contact us if you are interested in becoming a volunteer–we would love to have your help in 2015.