Henry Slocum (1827-1894) led quite a life.
He was quite prominent during the Civil War. He wasn't a Union general megastar like Grant, Sherman, Sheridan, or Meade. But he was a general who played an important role. Early on, he fought at the Battles of First and Second Bull Run, Virginia; South Mountain and Antietam, Maryland; and Chancellorsville, Virginia. On July 1-3, 1863, he commanded the extreme right flank of the Union Army (the point of the fishhook on Culp's Hill) at Gettysburg, Pennsylvania. After Grant's successful siege of Vicksburg, Mississippi, Slocum was given command of the District of Vicksburg. Late in 1864, he was appointed commander of the Army of Georgia and joined Sherman for the March to the Sea. It was Slocum's men who were the first Union troops to enter Atlanta, Georgia. After the War, Slocum resigned his commission and came to Brooklyn where he led a life of prominence. He was elected to the House of Representatives three times (1868, 1870, 1882), served as the president of the Brooklyn Board of City Works, and was a member of the Gettysburg Monument Commission. He was also a member of the board of trustees of the Brooklyn Bridge and championed its free use. He served as president of the Coney Island and Brooklyn Railroad Company and the Brooklyn Club, and was a founder of the Soldiers' Home in Bath, New York, where he served as president of the Board of Trustees. G.A.R. Post #28 was named in his honor. The steamboat General Slocum, also named for him, burned in the East River in 1904, with over 1,000 deaths. An interesting man.
The Green-Wood Historic Fund has quite a few photographs of Slocum in its collections. Here are three examples: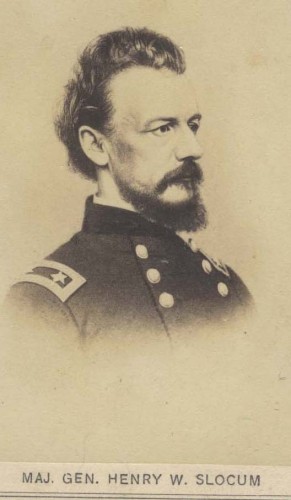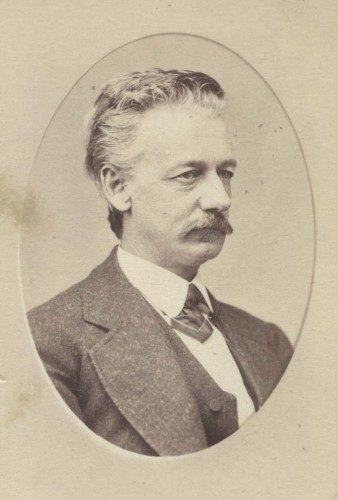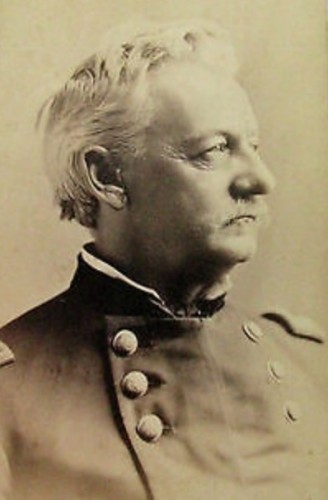 I recently came across this carte de visite photograph for sale: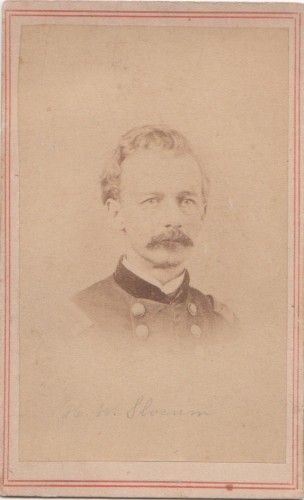 It was unlike the other photographs of Slocum that we have in our collections. Not so much because of the image; that was fairly pedestrian. But, rather, because of this back stamp on the photograph: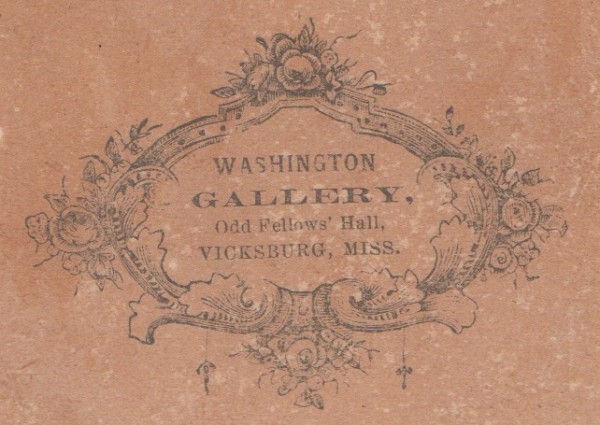 So, here's a Union general, in uniform as the Civil War rages, having his portrait taken at a gallery in Vicksburg, Mississippi. I thought that was interesting; the other photographs we own of him were taken in New York or nearby. After buying this photograph for The Green-Wood Historic Fund Collection, I did some research.
Here's the Civil War Trust's very good and concise summary of what happened in Vicksburg in 1863, in the midst of the Civil War:
In May and June of 1863, Maj. Gen. Ulysses S. Grant's armies converged on Vicksburg, investing the city and entrapping a Confederate army under Lt. Gen. John Pemberton. On July 4, Vicksburg surrendered after prolonged siege operations. This was the culmination of one of the most brilliant military campaigns of the war. With the loss of Pemberton's army and this vital stronghold on the Mississippi, the Confederacy was effectively split in half. Grant's successes in the West boosted his reputation, leading ultimately to his appointment as General-in-Chief of the Union armies.
Soon after the Union troops took Vicksburg, two photographers traveling with Grant's army, D.P. Barr and J.W. Young, set up a gallery there. And soon thereafter, sometime in 1863, they took photographs of Generals Grant and John Logan. But, by June of 1864, Barr and Young had gone their separate ways; Barr advertised on June 8 that he was now in business as the Washington Photograph and Ambrotype Gallery on the third floor of the Odd Fellows Hall on Washington Street in Vicksburg. His gallery, he promised, was "Guaranteed to give Satisfaction." At the same time, he proudly announced that he had hired J.E. Joslyn, who formerly of had worked in two of New York's largest photo galleries, those of Edward Anthony (who is interred at Green-Wood) and Matthew Brady, to "execute work in the most beautiful and desirable manner."
Checking the Internet, I discovered this photograph of the very same Vicksburg gallery where the photograph of General Slocum was taken: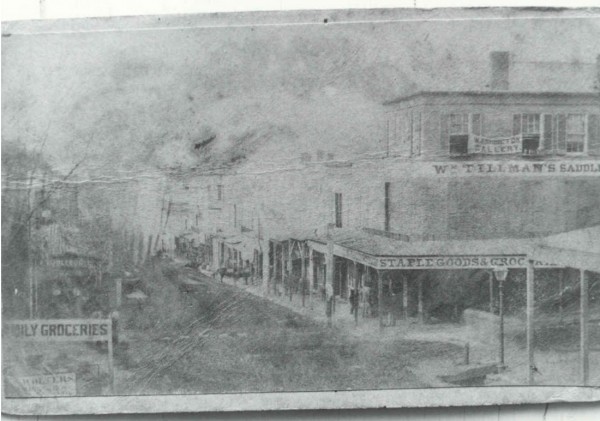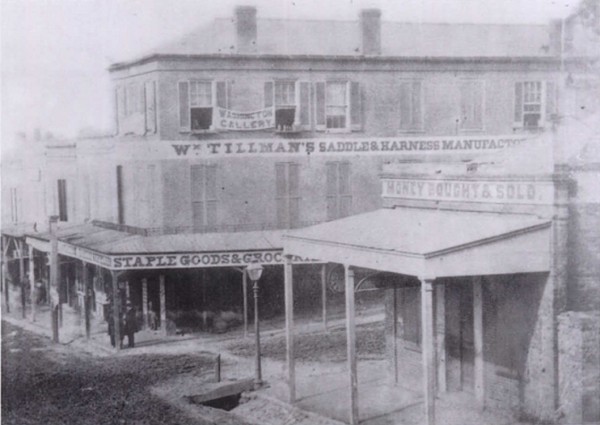 It appears that the photograph of General Slocum that I just purchased, the one taken at the Washington Gallery in Vicksburg, Mississippi, was made sometime between June, 1864, when that photographic emporium was established, and late August of that year, when Slocum was transferred to command of the XX Corps under General Sherman in Georgia. Imagine Slocum, from upstate New York, a graduate of West Point, a veteran of Civil War combat, but still a fairly young man, sitting in the third floor of the Odd Fellows Building in Vicksburg, Mississippi, having his photograph taken–a conqueror who still had much to do before the Civil War was over–and who had another 30 years of a very productive life in front of him.