In Green-Wood's early years, its visitors' entrance was along 24th Street. However, when bars sprung up along the access road just outside the cemetery, Green-Wood decided it had to move its entrance. So, in 1860, Green-Wood hired Richard Upjohn, the first president of the American Institute of Architects, and his son, Richard Michell Upjohn, to design the new entrance gates at 25th Street and Fifth Avenue. By 1863, Green-Wood's spectacular Gothic Revival Main Gates were done.
Those gates are now New York City landmarks. Robert A.M. Stern, the dean of Yale's School of Architecture, has described them as "the finest example of High Victorian architecture in America." Generations of visitors have admired them. However, for 142 years, they have been invisible at night. That now has changed.
And here's how it happened. As Green-Wood's Vice President for Operations Ken Taylor recounts:
Lighting the Main Gates has been on our wish list for many years. In 2005, Stone Phillips, as a correspondent for "Dateline," was at Green-Wood to shoot a piece, using the Upjohns Main Gates as a backdrop. His crew lit the gates behind him, and they looked great. Then, a few years ago, when the HBO television show "Bored to Death" filmed on location at Green-Wood, they lit the Main Gates for their scene and it looked spectacular. From that day on we knew that one day we would light our historic brownstone gates.
We solicited a proposal from the lighting designer who had done such a good job on Brooklyn's Borough Hall, but, unfortunately, that plan was just too expensive for us. We at Green-Wood had had some experience with lighting; in an attempt to better light the stained glass in our Historic Chapel we had asked our electrician for help. He suggested that we use larger fixtures there. Seeing how well they worked, I bought an extra fixture and had our shop make a portable base and add an extension cord so that I could move it around at night to find the best locations.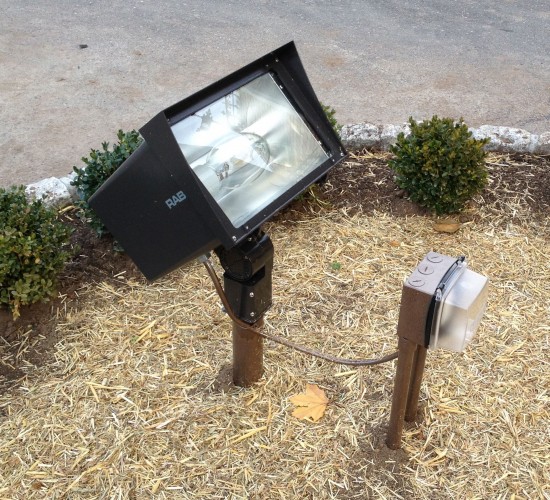 I designed the installation and our surveyor put it onto paper. I also took this opportunity to get another of my projects off the back burner by raising the sidewalks on the left side of the Main Gates to eliminate the up and down steps. When that phase of the project is completed the paving stones will continue across Meadow Road and meet the existing path running up Battle Avenue.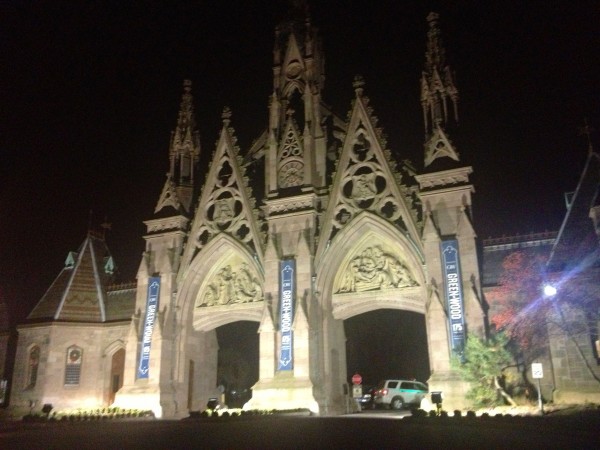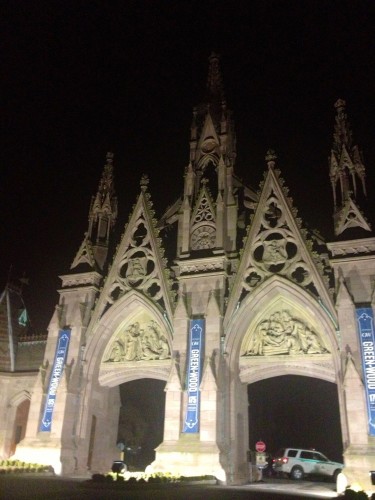 Art Presson, Green-Wood's superintendent of the grounds, also worked on this project. Art reports that Quennell Rothschild, the award-winning landscape architecture firm that has been working with Green-Wood for years on a variety of projects, helped with the site plan, including assisting in selecting lighting locations, determining the depth of the new planting beds, and the raising the path to eliminate steps along it. An application then was submitted for this work to the Landmarks Preservation Commission and approval was received.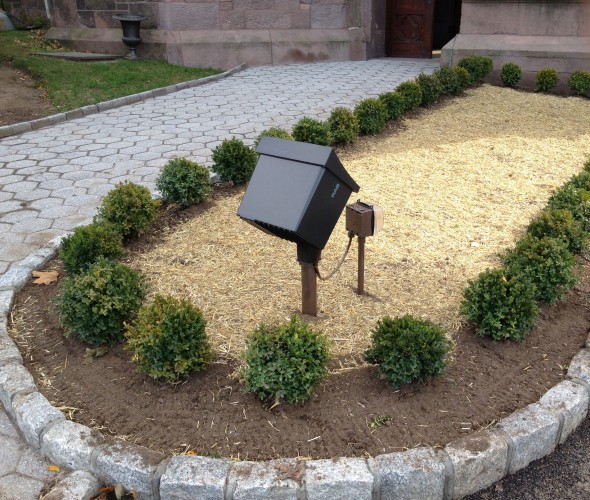 Art's crews have planted 2600 Sake tulips in the three beds–one at left, one at right, and one in the center of the Main Gates. Each of these plantings is bordered by dwarf boxwood hedging. After the tulips complete their spectacular spring bloom in 2014, annuals will be added to the mix, and the tulips will remain in place for another year or two of spring bloom–before they lose their energy and need replacement.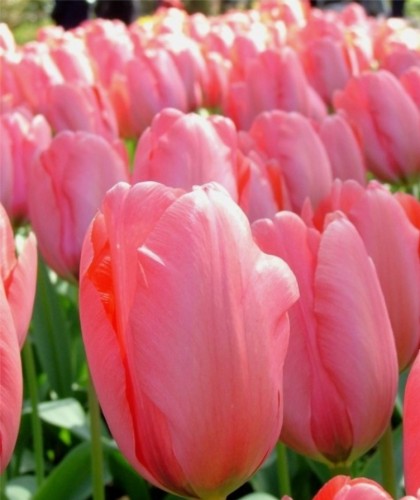 So, thanks to Green-Wood's team, our historic and landmarked Main Gates are now lit at night, for passersby on Fifth Avenue to enjoy. Happy Holidays!