Hurricane Sandy, with intense winds across Green-Wood's 478 acres a few months ago, toppled, snapped off, and broke into pieces about 300 of our 7,000 trees. Now, in order to make amends, and at the same time bring to fruition several long-anticipated tree-planting projects, Art Presson, Green-Wood's superintendent of the grounds, has gotten to work this spring.
Art has long been unhappy with the Japanese Yews that visitors saw upon passing through Green-Wood's Arches. There they were, up on the hill surrounding the monument to Joseph Perry, Green-Wood's 19th-century comptroller (and brother-in-law of Henry Pierrepont, Green-Wood's founder). They were evergreen; that's true. And they had been nicely pruned and shaped over the last few years. But they were nothing special, at best. So Art had his eye on them, and it did not end well for them; now they are no more.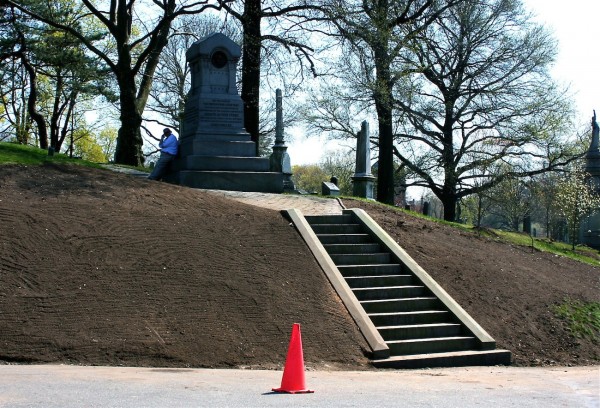 In their place, a grove of 26 flowering Dogwoods has been planted on that hill. As they fill in and mature in the coming years, their spring bloom will be spectacular. And good news for our Memorial Day Concert attendees–these trees will provide much-needed shade on that hill, which affords excellent sight lines to enjoy the music.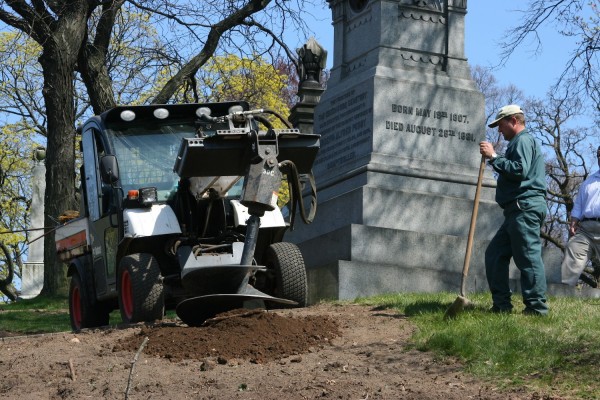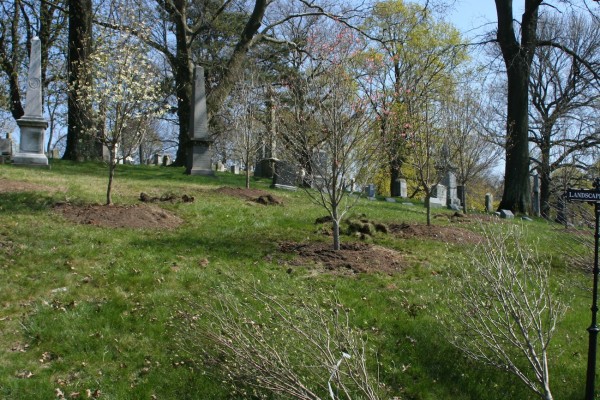 And Art is not stopping there. A grove of 14 Crab Apples (variety Sugar Tyme) is being planted just inside Green-Wood's Fifth Avenue entrance, on the right hand side of the entrance road. Farther up that road,  four Dogwoods, 3 Pinus Parviflora, and an Oriental Spruce will welcome visitors. And 10 Sugar Maples, offering spectacular red fall foliage, will be scattered along Arbor, Bayview, and Battle Avenues. And 20 American Elms, a variety called Valley Forge that is resistant to Dutch Elm disease, are being planted along Meadow Avenue, replacing the Pears that were splintered and destroyed by Sandy. In all, 175 trees are being planted.
Merry spring!