This past Saturday, about 55 people gathered at Green-Wood's Historic Chapel for the launch of the New York Chapter of the Association for Gravestones Studies.
The Association for Gravestone Studies is described on its website as follows:
The Association for Gravestone Studies (AGS) was founded in 1977 for the purpose of furthering the study and preservation of gravestones. AGS is an international organization with an interest in gravemarkers of all periods and styles. Through its publications, conferences, workshops and exhibits, AGS promotes the study of gravestones from historical and artistic perspectives, expands public awareness of the significance of historic gravemarkers, and encourages individuals and groups to record and preserve gravestones.
In recent years, 11 AGS chapters have been created across America. So, why not one in New York City?
It was a busy all-day meeting. Mark Noenstied, AGS president, delivered the opening remarks. Eva Bowerman, chair of the New York Chapter, talked about the new chapter's goals. A series of talks were given: Paige Doerner, Rochester's public historian, spoke about rural cemeteries. Ta Mara Conde, the head conservator of Historic Gravestone Services in New Salem, Massachusetts, gave an overview of "Rocks and Stones." It was then time to take a break for a group photograph: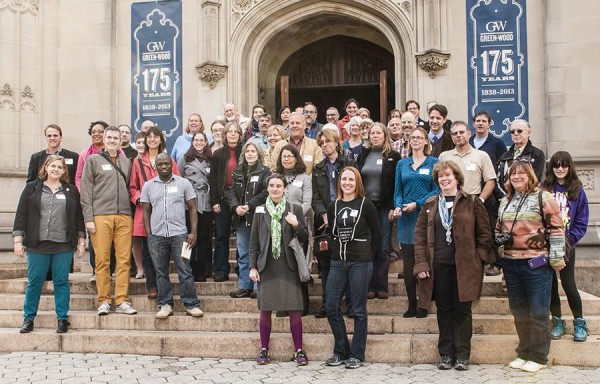 Elizabeth Broman, reference librarian at the Cooper-Hewitt National Design Museum (whose founders are interred at Green-Wood), spoke on "Egyptian Revival Funerary Art and Architecture in New York City."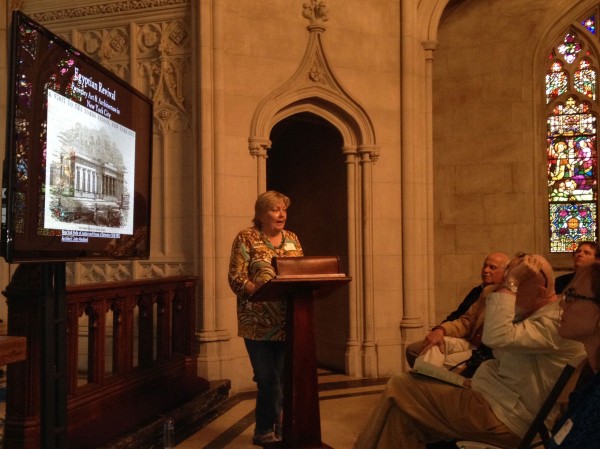 Jenny Swadosh, AGS archives committee chair and trustee, spoke about the extensive AGS archives at the University of Massachusetts. Green-Wood's own director of marketing and development, Lisa Alpert, talked about the cemetery's 175th anniversary and what we have done to celebrate it in 2013: banners on the front gates and the Historic Chapel, the exhibition "A Beautiful Way to Go" at the Museum of the City of New York, and a daily calendar on our website of Green-Wood related anniversaries. Linsly Boyer, assistant art conservator with the Art Conservation Group in New York City, discussed "Contemporary Conservation Techniques for Slate Gravestones." Susan Mathisen, president of SAM Fundraising Solutions, addressed "Finding Funding for Gravestone Preservation."
It then was time for lunch–free pizza for all–followed by a trolley tour of Green-Wood, led by Historian Jeff Richman. Featured were stops on Battle Hill–to see the spectacular views of New York Harbor and the Manhattan skyline, to visit Leonard Bernstein's grave, and to go inside the Durant Mausoleum, where sculpture by John Moffitt abounds. The subsequent drive across the cemetery included the Civil War Soldiers' Lot and a visit to the Catacombs.
It was a busy day–and a fascinating one. If you would like more information about joining the New York Chapter of AGS, you will find its Facebook page here.