Green-Wood just has been awarded a grant of $500,000 by New York State's Regional Economic Development Council to begin work on the restoration of the landmarked Weir Greenhouse, at Green-Wood's main entrance, the corner of 25th Street and Fifth Avenue. The greenhouse, in disrepair, was purchased by Green-Wood in February, 2012, for use as a visitors center and exhibition gallery. For a post on its rich history and that purchase, "It Is Ours!", click here.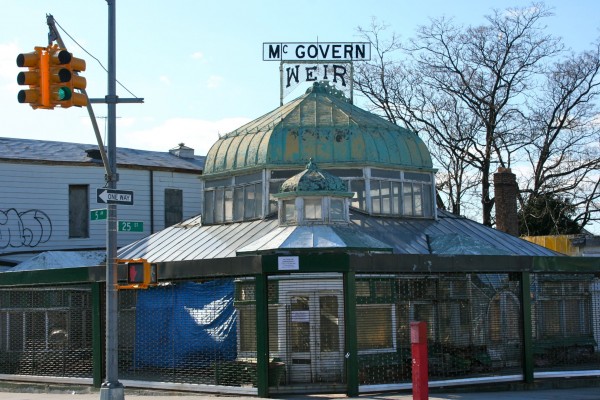 Richard J. Moylan, Green-Wood Cemetery's president, issued this statement:
The Weir Greenhouse is an important New York City Landmark that sadly fell into disrepair over the decades. As a growing center of education, history, and culture, Green-Wood is deeply committed to historic preservation. Once this restoration project is completed and the building is returned to its original beauty, the renovated structure will become an anchor in our community, serving as Green-Wood's visitor center and exhibition space for our historic archival and art collections. We are deeply grateful to the Regional Economic Development Council for this grant.
An architectural study of the greenhouse and plans for its adaptive re-use are underway; that study is expected to be completed shortly. Then work will begin on the restoration of this landmark (it is the only surviving Victorian greenhouse in New York City) to its 19th-century glory.