In April, I posted "In Memoriam: Captain Richard V.W. Thorne, Jr." In that blog post, I discussed my purchase, on behalf of The Green-Wood Historic Fund, of a memorial book, created in 1875 upon Captain Thorne's death by the men who served in the Brooklyn City Guard with him. I also reported that he was interred at Green-Wood and had served in the Civil War. I noted that volunteers in our Civil War Project had written a biography of him which included this:
Prior to the War, the men of this regiment awarded him with a Presentation Grade 1850 Foot Officer Sword and Scabbard. It bears the inscription, "Presented by the Brooklyn City Guard to Capt. R.V.W. Thorne, Jr., 1859."
That was certainly intriguing. So, at the end of that blog post, I asked this question: "Anybody out there have that sword?"
Well, as it turns out, Herman Kinder of Bowling Green Drummer in Kentucky had Thorne's sword. And now Green-Wood owns it!
Herman, owning the sword, decided to do some Internet research on it early in June. And up popped my blog post on Thorne. Herman contacted me and Green-Wood was able to purchase the sword. Here it is: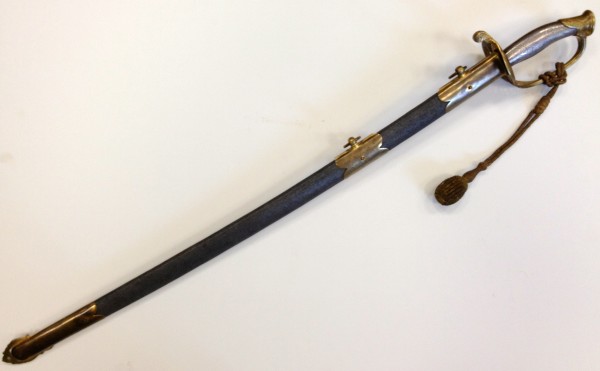 Here is Herman's description of the sword:
Presentation, M1850 Foot Officer's Sword presented to Richard V.W. Thorne, Jr. with Silver grip & Officer's Sword knot.  Metal, Original to the sword, Shark or rayskin covered Scabbard with presentation on middle hanger which reads: Presented by the Brooklyn City Guard to Capt. R.V.W. Thorne Jr   Sept. 1859. Standard 31 3/4″ slightly curved M1850 Foot Officer's blade which is in great condition. Sword also has original red throat washer intact.
The silver handle is spectacular: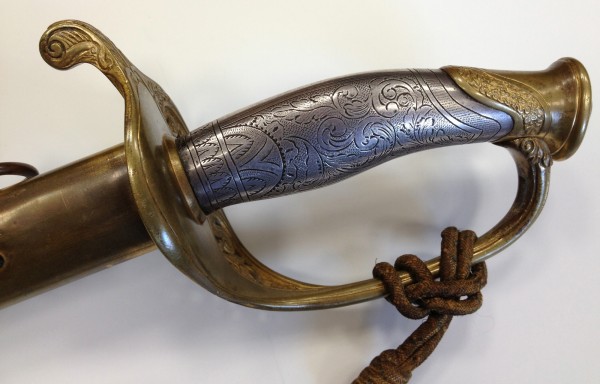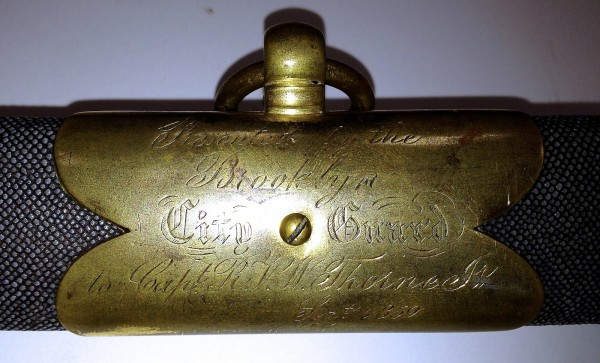 Though the sword was presented to Captain Thorne in 1859, two years before the Civil War began, it is reasonable to assume that he used it during the Civil War. Certainly Captain Thorne would have been proud of his sword. So, when he volunteered to serve in the Civil War, and was sent off to Virginia to fight for his country, it is logical to assume that he would have brought his very special sword with him. The sword does show some wear, so it appears not to have been simply stored away. It got some use–and there would have been no better time for Captain Thorne to have used it that during his service to the United States.
Herman, during his research, also found a letter at the National Archives written by Captain Thorne from the front during the Civil War. It reads as follows:
Headquarters, 13th Reg. N.Y.S.M.
Camp Crooke, Suffolk, Va. June   1862
Major Genl. John A. Dix
Fortress Monroe, Va.
Major General.
The sudden call of my Regiment into active service by the United States deprived me of my Lieutenants, and rather than to have my command remain at home, I was assured by the Brig. General, in command, if I brought them out, as soon as the Regt. was comfortably quartered, I should be allowed a temporary furlough to return and arrange my affairs. I have three excellent Officers who are perfectly competent to take charge of my command. I therefore ask a furlough of ten days in compliance of the above.
Respectfully yours,
RVW Thorne
Capt. Co. G 13th Regt. N.Y.S.M.
This request for a furlough was approved.
Now, fortunately, and quite remarkably, Green-Wood has Richard Thorne's mortal remains, his gravestone, the memorial book produced upon his death in 1875, and the sword presented to him by his men in 1859, and likely used during the Civil War. Together they help us tell one more Green-Wood story.