"In the center of Brooklyn's vast Green-Wood cemetery, actors are bringing characters to life in the moonlight." – WNYC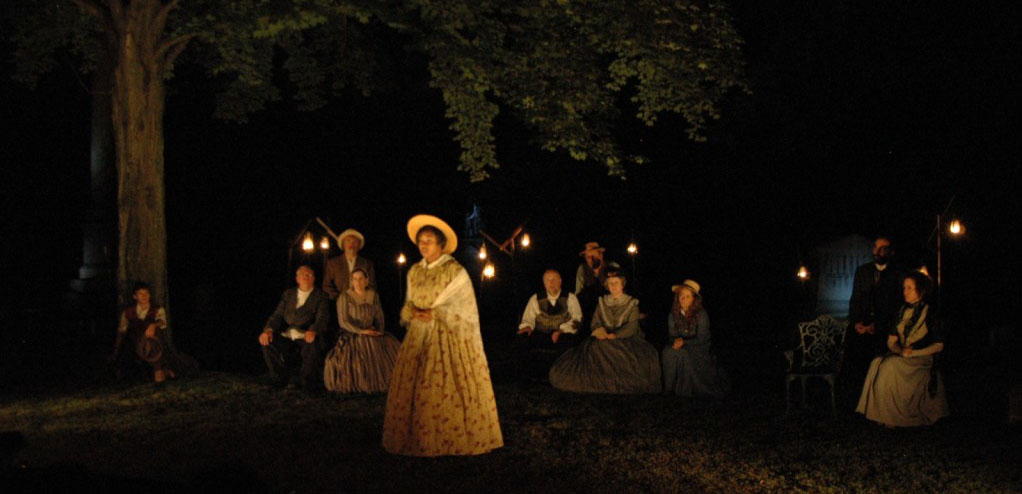 Photo by F. John Fuchs
The Green-Wood Historic Fund and Variations Theatre Group present
THE SPOON RIVER PROJECT
A Play with Music, adapted by Tom Andolora, based on Edgar Lee Masters' 1915 classic, The Spoon River Anthology.
Playing in Green-Wood Cemetery from June 13 to June 30.
Accompanied by songs including "Shall We Gather at the River," "Softly and Tenderly" and "In the Gloaming," 11 actors tell a story of the fictional town of Spoon River through its residents who have since left this world. Playwright Tom Andolora of Brooklyn College has adapted the classic American work by Edgar Lee Masters for the stage and directs the production as well. Enjoy the splendor of Green-Wood by moonlight, in what the New York Times calls "a true-to-life setting for voices from the dead."
Want more? Stay up late on Opening Night for our AFTER PARTY. Surrounded by gravesites and the night skies, you'll mingle with the director and the actors of The Spoon River Project. The party is open for all June 14 ticketholders and includes a cash bar.
And for the true night owl – take in one of our MIDNIGHT SHOWS every Saturday. Arrive at 11:30pm under the cloak of darkness for this special performance. And before it begins, we'll set the mood by traveling deep into the heart of Green-Wood for a tour of the Catacombs, an historic in-ground vault usually off-limits to the public.
IMPORTANT:
– This show is not recommended for children.
– No outside alcohol or food is permitted in the cemetery.
– Please arrive at Green-Wood's main entrance (25th Street and 5th Avenue) at the specified time for your show. Ticketholders may use the Green-Wood trolley to travel to the show location.
– Chairs and benches are provided and all tickets are General Admission tickets.
– The performance is 80 minutes, with no intermission.
– Flash photography is not permitted during the performance.
– In the case of rain, the performance will be held inside Green-Wood's historic chapel and seating will be first-come, first-serve. Any tickets not admitted to the chapel that night will be redeemed for one of our prescheduled rain dates on June 19, June 26, July 1 or July 2.
Day and evening shows at the door: $35 regular, $30 for students or members of Green-Wood or the Brooklyn Historical Society. Midnight shows: $40/$35. Credit card purchases include a small processing fee.
Tickets for all shows may be reserved below. For group rates, please call 718-210-3071.
Not a Member?
Click here for all of our membership levels and information.
Already a Member?
Click the "Enter promotional code here (members, use your ID#)" link in the bottom right corner of the ticket box and enter your ID number to apply your ticket discount. Please note that the Senior, Individual and Student membership levels are limited to only one Member Ticket per event (for additional tickets, please purchase at the regular price).
Questions?
Don't know your Member ID number? Not sure which ticket or membership type to order? Call 718-210-3080 or email contactus@green-wood.com with any questions.
Purchase day or evening show tickets:
Purchase midnight show tickets: