There is a lot going on across Green-Wood's magnificent 478 acres.
New trees are being planted. So, in April, Green-Wood staff was contacted by Bart Chezar, a Park Slope environmentalist who is active with the American Chestnut Foundation. Bart explained in an e-mail:
In 2004, working with staff in Prospect Park, we planted several American chestnut trees (Castanea dentate), supplied by the American Chestnut Foundation, at two locations in Prospect Park. Despite ups and downs these trees have done remarkably well with some being over 30' tall.  Though these trees are not blight-resistant they are thriving and have produced burrs with nuts the last few years.
As background information, prior to 1900 the American chestnut tree was a keystone tree in the eastern forest, making up 25% of the hardwood trees. The chestnut (not to be confused with the horse chestnut or chestnut oak) is indigenous to Brooklyn. While doing some research I uncovered references to a Dutch patent (deed) in the 1600s that marked one corner of the property in what is today Sunset Park with three notches in a tremendous chestnut tree.  This tree was located at what is now Ocean Hill in Green-Wood Cemetery (you also have a Chestnut Hill at Green-Wood). 
At the beginning of the 20th century the American chestnut was struck by a blight that wiped out the tree throughout its range.  For the last few decades the American Chestnut Foundation has been dedicated to restoring the chestnut by working to develop a blight-resistant tree. This work continues.
Last year we were provided with some, what is hoped to be, blight-resistant nuts (see NYT article: "Returning Chestnut Trees to City Where Blight Was First Found"). These nuts, along with other American chestnut seedlings, are being grown and cared for at the Greenbelt Native Species Center on Staten Island. Next week I will be picking up tree seedlings that will be planted in Prospect Park, and the Brooklyn Botanic Garden. The Center also has some non-blight resistant tree seedlings (2-3'). I plan to provide 2-3 of these for planting at the Bush Terminal Piers Park in Sunset Park.  I would like to also provide 2-3 of these American chestnut seedlings for you to plant in Green-Wood Cemetery. Sort of beginning to complete the circle.
Please let me know if this is of interest to you . I would be happy to meet with you or others at Green-Wood Cemetery to discuss.
I appreciate your interest.
Sincerely,
Bart Chezar
Well, it took Green-Wood's Superintendent of Grounds Art Presson only moments to say yes. So here's Bart, at left, with one of the Chestnut saplings, and Tim McKinney, who also works with the American Chestnut Foundation, about to plant it in Green-Wood's soil.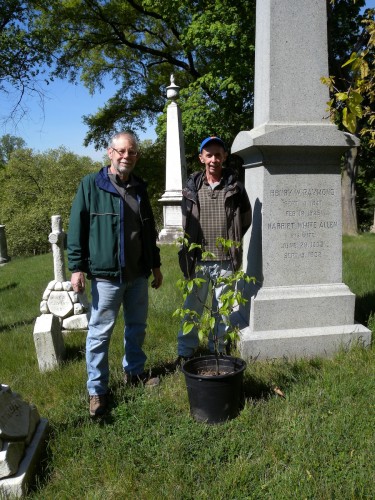 And new discoveries are being made. This from Art Presson, Green-Wood's Superintendent of the Grounds, just a few days ago:
I noticed what looked to be an infestation on some recently planted helichrysum at Tranquility Garden today. I resisted yanking or spraying and asked Michele Palidino of Gowanus Nursery, who sold me the plants, "What's up with that?"  Very excited, she told me that it was hatchings of American Lady Butterflies. Helichrysum or curry plant is a food source for American Lady Butterfly. They are currently at the stage of small black caterpillars. The plants are fuzzy, gray, trailing and vine like. They look pretty beat up by the occupation, but I am assured the plant will be fine and the butterflies will be too if we give them a little time to eat.
Here's what these butterflies (Vanessa virginensis) will look like after they get done munching and fly on their way: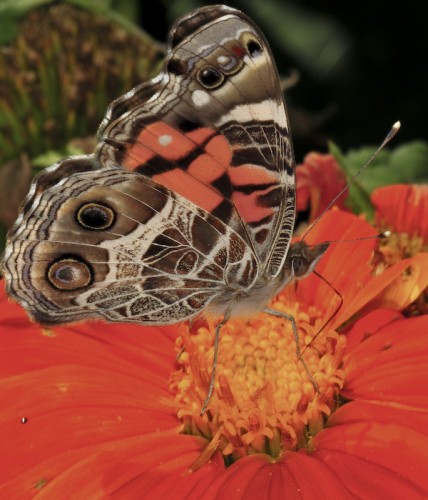 Judy Zuk was a horticulturist and environmentalist. She headed the Brooklyn Botanic Garden from 1990 until 2005. She was also a Green-Wood trustee. When she retired from the Botanic Garden, the Garden's Magnolia Plaza was named for her, as well as a yellow magnolia that had been developed there: the "Judy Zuk Magnolia." Despite a valiant fight, she died from breast cancer in 2005. Three Judy Zuk Magnolias now frame her Green-Wood grave. Here is one of them, in bloom, early this spring.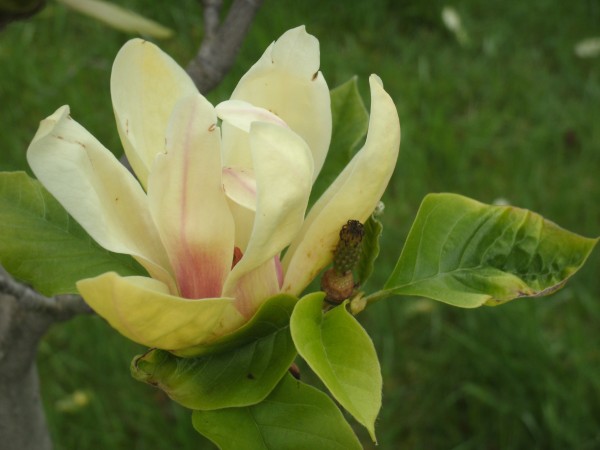 Much doing on Green-Wood's grounds. Take a walk and make your own discoveries!