Kurt Andersen has quite the resume. A novelist, he also has written for movies, television, and theater. He has been a columnist for The New York Times, Vanity Fair, New York Magazine, and The New Yorker. He is the host of "Studio 360" on Public Radio International and WNYC. A co-founder and editor of Spy magazine, he also was the editor-in-chief of New York Magazine. He is now on a national tour, promoting his latest novel, "True Believers."
We are flattered that Kurt, as part of his current "Kings County" series on WNYC, chose Green-Wood Cemetery as one of his subjects.

Here's how he began that piece:
. . . The park in Kings County that I love the very best–it's a few blocks southwest of Prospect Park. And it isn't technically a park–it's Green-Wood Cemetery. (Applause.) It's almost as big as Prospect Park and it's older and it's got ponds and hills and gorgeous old trees and little paths with sweet names . . . .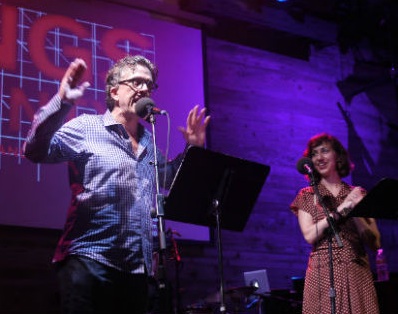 You may listen to Kurt's Green-Wood-related performance here. The Green-Wood piece begins at the 42:27 mark and runs for about 10 minutes.
As Kurt explains, he and his wife, the writer Anne Kreamer, have chosen to spend their eternity in Brooklyn–at Green-Wood Cemetery. For our recent blog post on Anne's love of Green-Wood, "A Magnificent Little Bit of Brooklyn Forever," click here.