I was poking around the Internet earlier this week, looking for something to buy for our Green-Wood Historic Fund Collections, when I hit pay dirt with this photograph and bought it: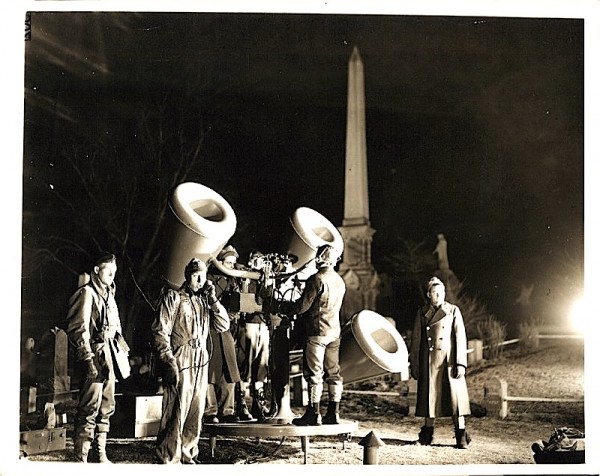 This is a wire photo; here's the caption attached to it that explains what you see above: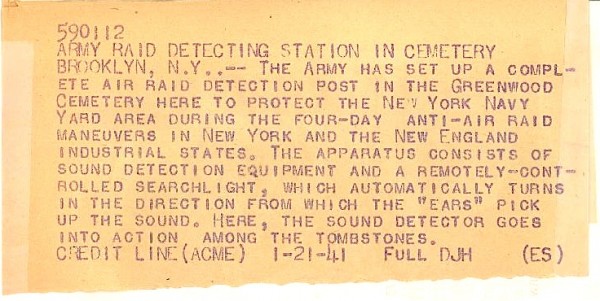 The monuments in the background of the photograph, plus the caption, made it apparent that this was indeed taken at Green-Wood. But, the question remained, where in the cemetery's 478 acres was this? So I set out with Liz Christian, Green-Wood's intern extraordinaire, to see if we might find the location where the Army had set this equipment up 70 years ago.
I remembered having heard about a battery that was set up during World War II at Green-Wood, and thought that that had been on a hill near McDonald Avenue. So we headed over in that direction. But as we began to drive, getting only as far as the Beard Bear, Liz shouted for me to stop. Amazingly, she had spotted the very obelisk that rises in the photograph. So here's the spot, on Atlantic Avenue between Meadow and Linden Avenues, behind the Gilsey Family tomb, where these soldiers, on January 21, 1941, were photographed protecting New York City from air attack.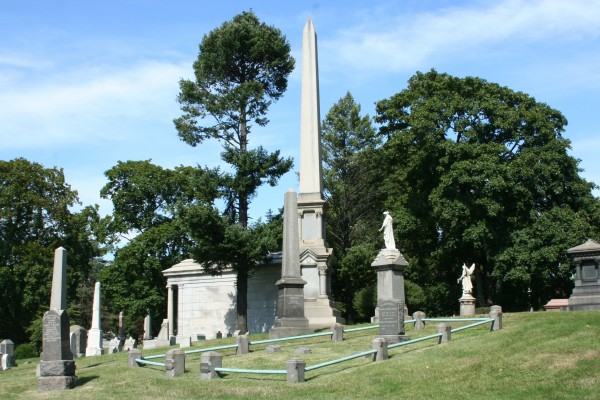 One final question: Do you think these soldiers, using this equipment, heard any communications from "the other side" that night?