We continue to collect items, on behalf of our Historic Fund, to tell the story of Green-Wood and its permanent residents.
Several months ago, I learned from Sarah Simms, one of our volunteers, that Dr. Stanley Burns and The Burns Collection, for whom she works as librarian and cataloguer, had a wonderful album in their collection, a very rare theatre album. Sarah brought the album over to Green-Wood to show me, and I must say that I was very impressed.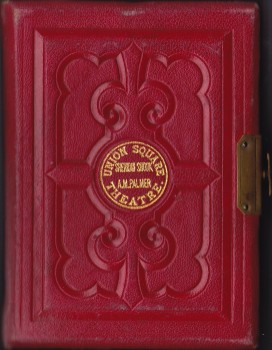 First of all, the album, created to commemorate the 100th performance on March 27, 1875 of "The Two Orphans," a play at the Union Square Theatre (the leading New York theatre of its time), was issued by Napoleon Sarony, the photographer to the theatre and the stars.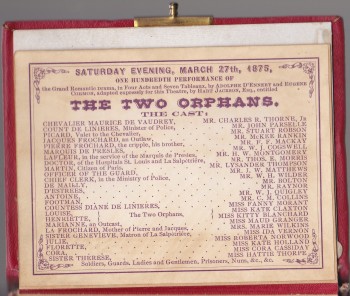 Sarony, as you may have guessed, is interred at Green-Wood. We have a great collection of his work at Green-Wood. Presidents, generals, international celebrities such as Oscar Wilde, Lillian Russell, Lilly Langtry, and Sarah Bernhardt, all came to Sarony's studio, on Union Square or nearby on Fifth Avenue, to be photographed from the 1870s through the 1890s.
So, the Sarony connection was a great thing. But so was the "Two Orphans" connection. That was the same play that was being performed just over a year later, on December 5, 1876, at the Brooklyn Theatre, at Washington and Johnson Streets in downtown Brooklyn, when the place caught fire, panic ensued, and 278 people perished. Up until the 9/11 attacks, that was the greatest on-land loss of life anywhere in New York City or Brooklyn. A few days after the Brooklyn Theatre Fire, 103 of its victims, whose remains were so charred that they could not be identified, whose bodies were unclaimed, or whose family could not afford private burial, were interred together at Green-Wood.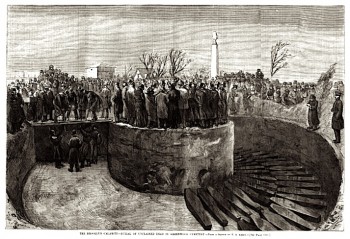 Later, a large granite obelisk, describing the disaster, was placed in the midst of those graves. It is a rare cemetery monument commemorating a specific event.
The star of "Two Orphans," both of these nights, was Kate Claxton (1848-1924).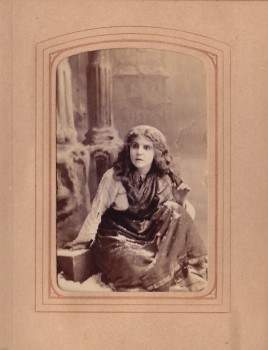 The morning after the Brooklyn Theatre Fire, she was found, dazed and badly burned, wandering in Manhattan, not knowing how she had gotten there. Claxton continued her theatrical career in the ensuing years, went off to St. Louis to perform, and the theatre there also burned down. A boycott of her performances followed; much of the public was convinced that she was bad luck. She later acquired the rights to "The Two Orphans" and Louise, one of the title characters, became her signature role, which she played until 1903.
For Kate Claxton's dramatic account of the Brooklyn Theatre Fire, published in The New York Times a few years later, click here.
The album contains twelve dramatically-posed photographs of the "Two Orphans" cast, eleven of whom are shown in costume.
Years ago, I set out to find Kate Claxton's final resting place. It seemed likely to me that she would have wanted to be interred at Green-Wood, where the Brooklyn Theatre Fire Monument stood. But, I couldn't find her there. Then, one day, I found her obituary that had appeared in the New York Times. It mentioned that she had been married to actor Charles Stevenson, but that their marriage had been annulled when she discovered he had secretly divorced her and had married another actress. It occurred to me that she might have been interred under the name of Kate Stevenson, and that, strange as it seems, given her annulled marriage, turned out to be the case. Even stranger, her gravestone at Green-Wood makes no mention of her theatrical fame; she is simply identified as "Kate Claxton, Wife of Charles A. Stevenson."
So, given these connections to Napoleon Sarony and Kate Claxton, I was very interested in acquiring this wonderful album for our Historic Fund Collections. And, Dr. Burns knew that Green-Wood was the right place for this gem. He had a fond place in his heart for Green-Wood; he shot a documentary there, in 1997, "Death in America," and tells me how much he appreciates the cooperation of our staff in that project. So, we agreed to a partial purchase and a partial gift from Stanley B. Burns, M.D., & the Burns Archive. Thanks to Dr. Burns–this album is a great addition to our collections.