Well, this is certainly an unusual new monument at Green-Wood. Its front is fairly typical: names, life dates, and epitaths.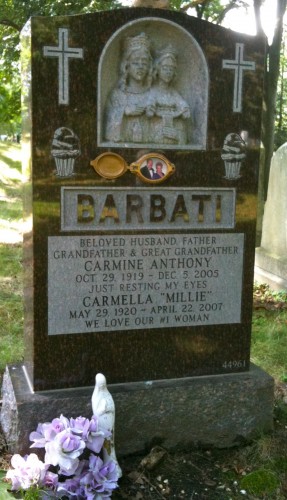 But the back of the monument is very special. It depicts Babe, the horse, pulling the sales wagon, as Ludovico Barbati sold spumoni on the streets of Brooklyn.
L & B Spumoni Gardens is a proud old Brooklyn institution, still going strong, on 86th Street. Its website gives this account of its founding: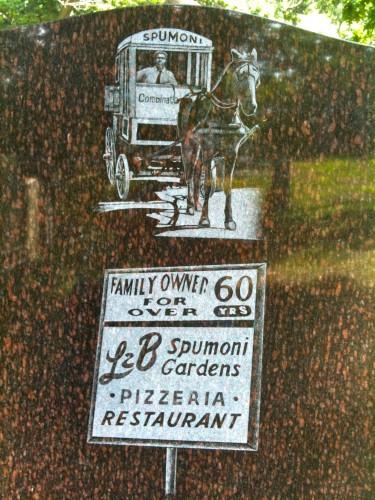 Ludovico Barbati came into the United States back in 1917, from Torella Di Lombardi, Italy. With just getting married in 1918 to Paolina Maugeri life was hard. Time went by and their six beautiful children were born. In 1938 Ludovico learned from a baker how to make Spumoni and Ices, in a little garage on West 8th Street, Brooklyn New York. His prized possession horse "Babe" was purchased, along with a new wagon. He sold his products up and down the streets of Gravesend & Bensonhurst, Brooklyn.
In 1939, Ludovico, Sr. decided he needed a little, inexpensive place to make the Spumoni and Ices, so he purchased vacant property on 86th street in Brooklyn. He asked his friends, who were carpenters, brick layers and cement workers from the "old country", to build the first of now three buildings. He manufactured his Spumoni in his factory; people from the town would come and buy his products.
And here is Babe and wagon, as they appear on the L & B Spumoni website. If you would like to read more about L & B, click here.
Today, L & B is best known for their great Sicilian pizza. A slice, anyone?