Chester Burger, my good friend, died on Tuesday. He was 90 years old and had led a full life. When he learned, several months ago, that he had prostate cancer, he accepted his fate, and carried on with his life as best he could. He was a remarkable man: smart, articulate, inventive, spiritual. He loved life, he loved New York City, and he loved Green-Wood Cemetery.
I first met Chet in the fall of 2004. Here's the article we ran then in The Arch, the magazine of The Green-Wood Historic Fund: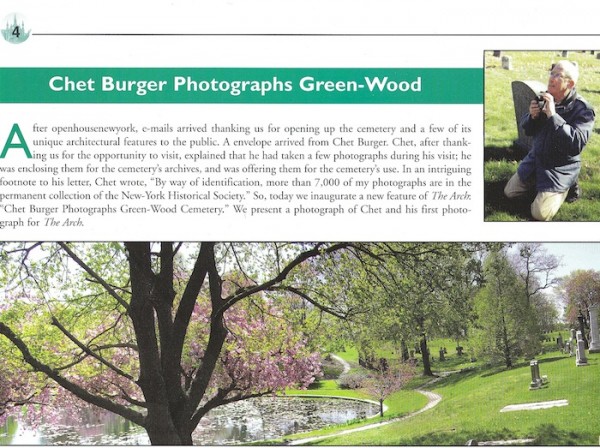 Chet had come to Green-Wood to enjoy a performance of "Angels and Accordions," had photographed the event, and had sent me his photographs to use as I wished. His note about 7,000 photographs was certainly intriguing. Remarkably, Chet was 83 years old back then; but he was spry and always interested in learning. Chet would come to Green-Wood in spring and fall and we would go out together to photograph the grounds. He would charge up the hills, position his tripod, and often shoot a panoramic sequence, which he then would meld into a single image on his computer. He was truly a man who was always in the moment–no aging gracefully and quietly. He loved new camera equipment, new software, new anything. He embraced the new, posting his photographs on flickr. He put up his profile on linkd. The more I spoke with Chet on those shooting excursions, the more I was amazed by the man. I googled "Chester Burger" and was even more amazed. Here's how he described himself in an online profile (and this, believe me, is just the highlights):
Chester Burger retired in 1988 from Chester Burger & Co., Inc., the nation's first communications management consulting firm. In 1995, the U. S. Government awarded him the Medal "For Outstanding Service to the United States."
 He was a consultant to the management of AT&T, for 33 years until his retirement. The Telephone Pioneers of America elected him an Honorary Member "for outstanding service to the telephone industry."
 Burger joined the Columbia Broadcasting System in 1941 as a Page Boy and left in 1955 as National Manager of CBS Television News. During World War II, he served in the U.S. Army Air Corps. 
He returned to CBS as a Visualizer, and developed methods for reporting world news on TV news broadcasts then beginning. In April 1946, he became the nation's first television news reporter. He was first president of the Radio-Newsreel-Television Working Press Association of New York.
 Burger currently serves as an advisor the Secretary of the Air Force Office of Public Affairs. In the Association for Intelligence Officers New York Chapter, he is Vice President.
During the years of the civil rights campaigns, Burger served the National Urban League as an officer and member of its Board of Trustees. He was a founder of the Black Executive Exchange Program, and received the Outstanding Mentor Award "for 21 years of counsel and support to minorities in Public Relations." The United Negro College Fund awarded him its Distinguished Service Citation.
The United States Information Agency presented Burger with its Award for Outstanding Service to America's public diplomacy efforts. The Public Relations Society of America gave its highest award, the Gold Anvil. 
He is the author of six books on management subjects, including "The Chief Executive." "Unexpected New York," a book of his photos and historical text, was published in 2007. His lifetime papers are in The Center for American History at The University of Texas in Austin.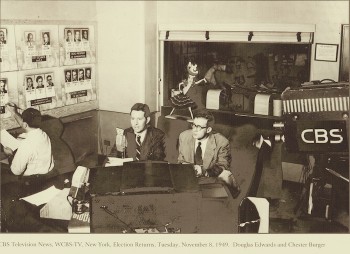 Pretty amazing, don't you think? And there was much more, as a I learned from googling him and talking with Chet. Here's a photograph he gave me recently. It shows Chet (in the glasses) with Douglas Edwards, reporting on the 1949 elections for WCBS Television. At left, a man handwrites the vote tallies on the wall. Just behind Doug and Chet is Chiquita Banana; the camera would pan to her for the commercial. As I also learned, he wound up working at the 1964 New York World's Fair, and decided to photograph it; his stereoscopic photographs, at the New York Public Library, are the most extensive photographic documentation of that fair. Chet was very proud to have received, in August, 2010, the Air Force Distinguished Public Service Award for service as an Air Force advocate under the Public Affairs Advisory Group in New York City for more than 15 years. Donley made a special trip to Chet's New York City apartment to present his award.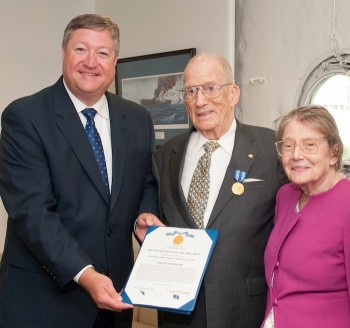 But, after all these accomplishments in his life, Chet was just so proud to call himself "Green-Wood's photographer." Year after year we published his wonderful photographs in The Arch.
Chet was a real New York City history afficiando. He loved to share stories of NYC, and delivered them with gusto. He wrote a book, Unexpected New York, in which he shared his love of the subject. Here's a quick promo he did for the book. And here's an almost-one-hour interview of Chet that was done in 2008.
Two years ago, I think it was, Chet brought his very eclectic friends out to Green-Wood for a tour. He loved the place, and he loved the renaissance that was going on there.
If you would like to see Chester Burger in a 2008 interview, click here. Typical Chet: his discussion of the code on manhole covers, at 56:20 on the tape.
Here are two spring photographs that Chet took in 2008: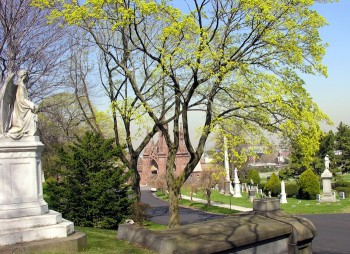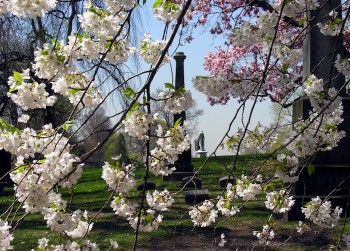 And here is one more of Chet's panoramas:

I visited Chet several times after he knew he was going to die. There was no self-pity–only acceptance. He was cheerful, as ever. After all, he was still learning. And, he knew, I'm sure, that he had done, throughout his long and oh so fruitful life, what he could. Rest in peace.