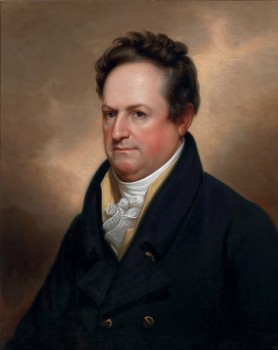 March 2, 1769: One of the most revered public figures of the early 19th-century, De Witt Clinton, served as a United States Senator, mayor of New York City, and governor of New York State.  He was also the prime visionary behind the Erie Canal. Upon his death in 1828, Clinton was interred in the Little Albany Cemetery, but with the agreement of one of son, Clinton's remains were reinterred at Green-Wood, bringing newfound prestige to the cemetery in its early years.
March, 1846: Raised in Weeksville, Brooklyn, Dr. Susan Smith McKinney Steward (pictured above) was New York State's first African American female physician.  A true trailblazer, she graduated in 1870 as valedictorian from the newly-created New York Medical College for Women. She was also active in the temperance and women's suffrage movements.  In 1974, Brooklyn's Junior High School 265 was renamed Dr. Susan Smith McKinney Junior High School in her honor. She died in 1918.
March 7, 1828: Richard Michell Upjohn worked with his father, Richard Upjohn, on the design of Green-Wood's famed main entrance, its Gothic arches. With its symmetrical and asymmetrical features including pointed arches, battlements, steep slate roofs, towers, clustered columns, openwork gables, trefoils and quatrefoils, iron bannerettes and foliated ornaments, Robert A.M. Stern has called these arches the "finest example of High Victorian Gothic Revival architecture in America."  Upjohn also designed the state capitol in Hartford. He died in 1903.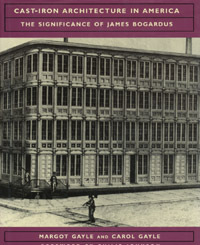 March 14, 1800: Born in Catskill, New York, James Bogardus is the father of cast-iron architecture.  By designing and constructing buildings that combined structural strength and aesthetic beauty and ones that allowed for bigger windows and taller structures, Bogardus was instrumental in the advancement of American architecture.  Bogardus erected the world's first cast- iron building in Manhattan at Washington and Murray Streets.  He died in 1874.
March 22, 1813 or 1814: Born in New York City, sculptor Thomas Crawford was commissioned in 1855 to create a statue to crown the dome of the United States Capitol in Washington, D.C.  Crawford completed a full-sized plaster model of "Freedom Triumphant in War and Peace;" however, he died in 1857 before the statue was completed.  Ironically the cast of Freedom was produced by slave labor.
March 22, 1816: John Frederick Kensett was a painter of the Hudson River School of landscape painting, the first indigenous American school of painting.  His paintings depict nature's abode as a holy place, a glorious place of God.  Kensett died 1872.
March 22, 1824: In 1849 Charles Pfizer, along with his cousin, Charles Erhart, founded what is today known as the Pfizer Inc., the pharmaceutical company.  He died in 1906.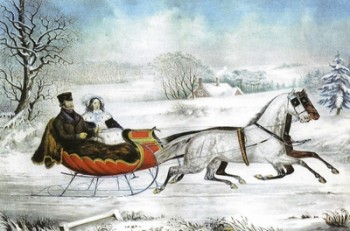 March 27, 1813: Nathaniel Currier partnered with his son-in-law, James Merritt Ives (born on March 5, 1824), in the firm of Currier and Ives, which achieved nationwide fame for their inexpensive art, 19th-century lithographs. Together they created memorable works showing many facets of American life.  The company remained in business until 1907. Tthe work of Currier and Ives remains popular today. Among the artists who created original works for "Currier and Ives" were Fanny Palmer, Napoleon Sarony, Eastman Johnson and George Catlin.  Currier died in 1888. Ives died in 1895.
March 30, 1858: A popular actor, singer, comedian and theatrical producer, DeWolf Hopper was best known for his recitations of the classic baseball poem, "Casey at the Bat," written by Ernest Lawrence Thayer.  Hopper melodramatically performed that poem 10,000 times during his career.  The poem introduced the baseball phrases "hope springs eternal" and "kill the umpire."  It also inspired books, tapes, television shows, an opera and movies.  Hopper died 1935. Here is the well-known last verse of "Casey at the Bat:"
Oh, somewhere in this favoured land the sun is shining bright,
The band is playing somewhere, and somewhere hearts are light;
And somewhere men are laughing, and somewhere children shout,
But there is no joy in Mudville–mighty Casey has struck out.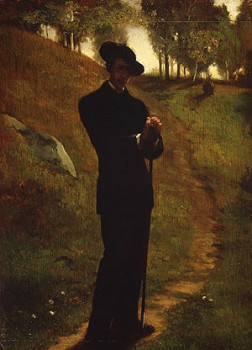 March 31, 1835: Born in New York City, John La Farge was one of 19th-century America's most versatile artists, excelling as a muralist, painter, and stained glass artist. He was the first American master to join decorative art and architecture.  At a time when there was virtually no mural decoration in the United States, he created murals for Henry Hobson Richardson's Trinity Church in Boston. La Farge died in 1910.