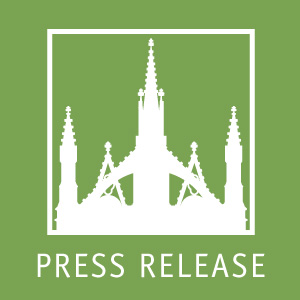 CONTACT:    Kim Esp/Colleen Roche  212-575-4545
Linden Alschuler & Kaplan Public Relations
"Artists in Permanent Residence"
The Green-Wood Historic Fund Celebrates the Magnificent Art
of Those Interred at Historic Green-Wood with a Free Exhibition
FOR IMMEDIATE RELEASE
Historic Green-Wood, a National Historic Landmark and treasured cultural center, will open its doors this weekend to art lovers as the Green-Wood Historic Fund hosts an exhibition, Artists in Permanent Residence, featuring fifty selected works of art created by some of the 300 artists interred there.  This free exhibition will be held in Green-Wood's Historic Chapel on Friday, September 17, 2010; Saturday, September 18, 2010; and Sunday, September 19, 2010 from 8:00 a.m. – 7:00 p.m.
Among the artists exhibited will be William Holbrook Beard, George Bellows, George Catlin, Bruce Crane, Thomas Doughty, William Hart, Daniel Huntington, Eastman Johnson, John LaFarge, Alfred Maurer, and Louis Comfort Tiffany.
Green-Wood President Richard J. Moylan said "Green-Wood is the final resting place for hundreds of celebrated artists.  By exhibiting their work, we not only continue their legacy, we also offer our community a unique and rich cultural experience."
The collection was dubbed "the city's most monumental art collection" by The New York Times in 2008.  The collection–now more than 150 paintings—is part of the unique archival collection owned and curated by the Green-Wood Historic Fund.
# # #
About the Green-Wood Historic Fund: The Green-Wood Historic Fund is a 501(c)(3) non-profit membership organization proactively working to raise funds to conserve and restore Green-Wood's endangered monuments and to preserve its artistic legacy.
Established in 1838, Green-Wood Cemetery stretches across 478 acres and boasts extraordinary works of 19th-century art and architecture.  Home to hundreds of famous historic figures, Historic Green-Wood Cemetery offers many tours of its grounds and concerts and events to the public throughout the year. It was designated a National Historic Landmark by the United States Department of the Interior in 2006.  For more information about Green-Wood Cemetery please visit www.green-wood.com .
.