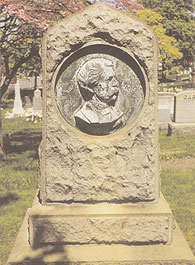 Sculptor: Lebretham
Founder: L. S. Jacquin
Location: Battle Avenue between Bay View Avenue and Bayview Path
Saved in Time: 2005
While theater in New York City dates back to the Colonial Period, it was not until 1866 that the Black Crook was staged at Niblo's Garden (William Niblo is also buried at Green-Wood), Broadway and Prince Street. It was to be the birth of the American Musical produced through the genius of William Wheatley. The production included a stranded French ballet troupe, three hundred babies crawling across the stage, scores of singers, dancers and musicians, and over one hundred beautiful women. The show set a precedent, the greatest theatrical hit of the century, a spectacle in four acts running for five and one-half hours, costing the huge sum of $50,000. It was to run for 475 performances, making it the longest running stage production up to that date. Despite admonitions from clergymen and moralists, it was the forerunner of things to come.
Charles Dickens and Mark Twain were said to have been in attendance at one of the popular performances. Wheatley was an established actor, theater manager and pre-eminent producer. He passed away in 1876 at the age of only fifty-nine.
Wheatley's monument is prominently placed not far from the Main Entrance of Green-Wood. It consists of a three part fine gray granite pedestal having a rock faced plinth, base and die, with dressed margins, ridged top and polished plaques on each side of the die bearing V-cut inscriptions. The monument stands 6 feet, 9 inches in height. A circular bronze bas relief portrait is recessed in the face of the die. It is 26 inches in diameter and is inscribed: LEBRETHAM SCULPTOR and L. S. JACQUIN in script style at the lower edge of the relief.
The monument is in whole and sound condition. The granite elements are soiled and require detergent cleaning, raking and repointing of the jointing between the stones. The bronze plaque has typically blackened traces of the original finish and oxidized green areas, which result in an overall detractive appearance. The bronze requires stripping to remove corrosion and discoloration, patining to achieve a satisfactory "mature" rich coloration with modeled highlights to enhance the sculpture, and protective treatment with corrosion inhibiting chemicals, coating system and waxing.