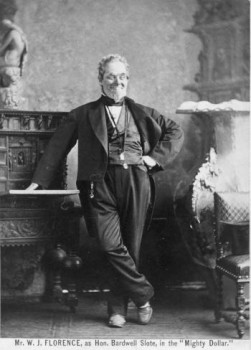 Of the more than half a million interred at Green-Wood Cemetery, few are remembered. Many died long ago, and their families and friends are long gone. So it is always comforting to learn of one person, here and there, who is remembered. Such an individual is William J. Florence (1831-1891), one of 19th century America's great actors. It turns out that Florence was the co-founder of the Ancient Arabic Order of the Nobles of the Mystic Shrine. So, on July 25th, a date close to Florence's birthday, a group of Shriners came to Green-Wood to pay their respects. You can find the account of their trip, and a wonderful group photograph, here.
Above is a photograph of William J. Florence, in character. That photograph, the photograph here, and this photograph of his wife, an actress who was known on the stage as Mrs. W. J. Florence, are all from the Green-Wood Historic Fund's collections, and all are by Napoleon Sarony, the photographer to the stars who is also interred at Green-Wood.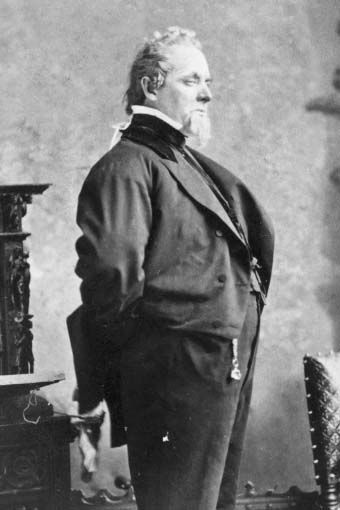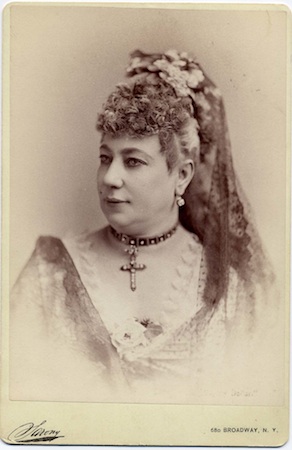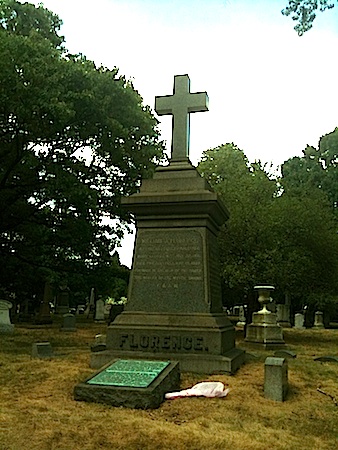 Here's the Florences' monument at Green-Wood. Note the bronze plaque on the ground in front of that monument. It contains this poem, written by their friend, William Winter:
BY VIRTUE CHERISHED, BY AFFECTION MOURNED.
BY HEAVEN HALLOWED AND BY FAME ADORNED.
HERE FLORENCE SLEEPS, AND O'ER HIS SACRED REST
EACH WORD IS TENDER AND EACH THOUGHT IS BLEST.
LONG, FOR HIS LOSS SHALL PENSIVE MEMORY SHOW
THROUGH HUMOR'S MASK THE VISAGE OF HER WOE.
DAY BREATHE A DARKNESS THAT NO SUN DISPELS
AND NIGHT BE FULL OF WHISPERS AND FAREWELLS.
WHILE PATIENT KINDNESS, SHADOW-LIKE AND DIM,
DROOPS IN ITS LONELINESS, BEREFT OF HIM,
FEELS ITS SAD DOOM AND SURE DECADENCE NIGH,
FOR HOW SHOULD KINDNESS LIVE, WHEN HE COULD DIE?
THE EAGER HEART THAT FELT FOR EVERY GRIEF,
THE BOUNTEOUS HAND THAT LOVED TO GIVE RELIEF
THE HONEST SMILE THAT BLESSED WHERE'ER IT LIT,
THE DEW OF PATHOS AND THE SHEEN OF WIT.
THE SWEET BLUE EYES, THE VOICE OF MELTING TONE
THAT MADE ALL HEARTS AS GENTLE AS HIS OWN,
THE ACTOR'S CHARM, SUPREME IN ROYAL THRALL,
THAT RANGED THROUGH EVERY FIELD AND SHONE IN ALL-
FOR THESE MUST SORROW MAKE PERPETUAL MOAN,
BEREAVED, BENIGHTED, HOPELESS AND ALONE?
AH, NO; FOR NATURE DOES NOT ACT AMISS,
AND HEAVEN WERE LONELY BOUT FOR SOULS LIKE THIS.
-WILLIAM WINTER