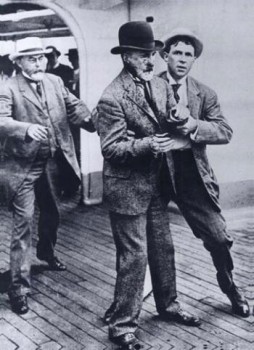 One hundred years ago today, August 9, New York City's Mayor William J. Gaynor was about to embark on a well-earned vacation cruise when he was shot by a New York City watchman who recently had been fired from his job. Here's the dramatic photograph of Gaynor's wounding, taken just seconds after a shot had been fired into Gaynor's throat at point blank range. This extraordinary photograph, taken by New York World photographer Bill Warnecke, was the result of a rather strange circumstance. All of the other photographer covering the mayor's departure had come and gone by the time Warnecke, running late, arrived. So it was Warnecke who captured this image, one of the greatest of news photographs, when the shooting started. Gaynor is seen here struggling to stay on his feet. According to his own account, he could not see, was unable to breathe, and heard a "metallic roar" coming and going in his head.
Gaynor recovered enough from this wounding to resume his duties as mayor. Just two months the shooting, he returned to work at City Hall to the cheers of 10,000 citizens. But the bullet remained lodged in his throat, and left him with a chronic cough and a rasping voice. It also changed the man; he was now vindictive and irascible, alienating his reformer supporters. In 1913, Gaynor left on a cruise, hoping to build up his strength for a re-election campaign. But the bullet in his throat now completed its assignment; he was found on a deckchair, dead, apparently from the damage that bullet had done to his body. The funeral procession that followed was the largest New York City had seen since President Abraham Lincoln's in 1865.
Gay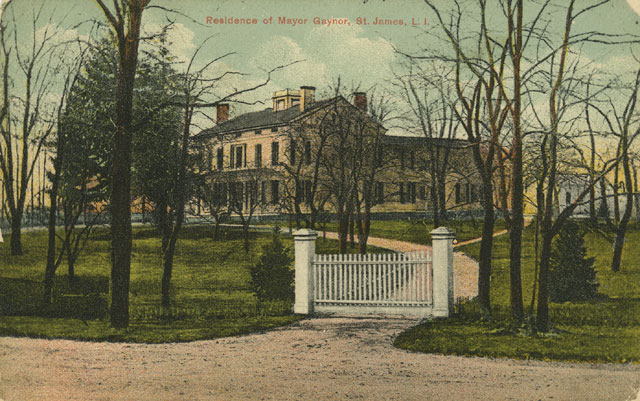 nor's summer home while he was mayor, Deepwells, in St. James, Suffolk County, still stands. Here's a post card of it, published circa 1910. Deepwells now is owned by Suffolk County and is open to visitors.
Today, a handsome but little-known monument to Gaynor stands in Cadman Plaza, just off the Brooklyn Bridge.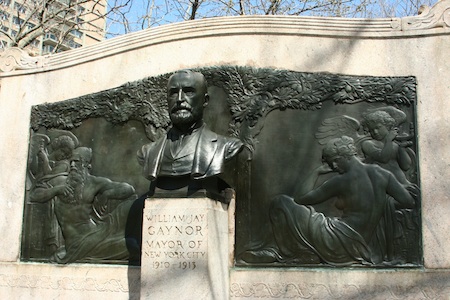 Gaynor's monument at Green-Wood, where he is interred, is a rather unusual piece. It is a large open granite circle, on the ground. It is a variation on the Victorian symbol for eternity–a globe or circle that has no beginning and no end.
Yesterday, in The New York Times, Sam Roberts wrote about Mayor Gaynor. If you would like to read more about Gaynor, you can find his piece here.