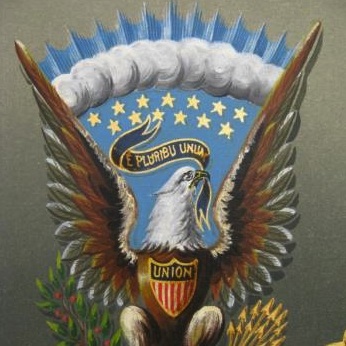 I saw this painting advertised; it is a one of a kind (I've never seen anything like it) tribute to a Civil War soldier. His name was Edward Marrenner and I thought that that name looked familiar. I checked our Civil War biographical dictionary and there he was:
MARRENNER (or MARRINNER, MARINER), EDWARD (1843-1909). Major and acting assistant adjutant general, United States Volunteers Adjutant General Department; captain, 174th New York Infantry, Company I; 162nd New York Infantry, Company I; private, 7th Regiment, New York State National Guard, Company F. Born in New York, he enrolled there to serve three months, mustered in as a private in the 7th Regiment on May 25, 1862, and mustered out with his company on September 5 at New York City. On October 22, 1862, he re-enlisted at New York City as a first lieutenant, was commissioned into the 174th on that day, was promoted to captain on November 29, 1863, and transferred into the 162nd New York on February 17, 1864. Discharged for promotion to major and assistant adjutant general on October 23, 1864, he was commissioned into the United States Volunteers Adjutant General Department on that day, served as assistant adjutant general to Major General Winfield Scott Hancock, and resigned on June 5, 1865.
According to the census of 1870, he was living in East Orange, New Jersey, and was employed as a glass importer. His firm, Heroy, Struthers and Company (he replaced Struthers), began manufacturing mirrors in 1870 and became one of principal glass importers and distributors of American plate and window glass with branches in Philadelphia, Pennsylvania, and Chicago, Illinois. On April 20, 1875, an article in The New York Times stated that he and Boss Tweed were jointly sued and a bill of particulars would be presented to them by the city. In 1897, he applied for and received an invalid pension, certificate 1,015,455. By 1900, he was living in Chicago, Illinois, where he resided at the time of his death. He is likely a relative of David Marrenner (see) who is buried in the same lot. His widow, Anna M. Marrenner, received a pension in 1909, certificate 694,201. Section 69, lot 6652.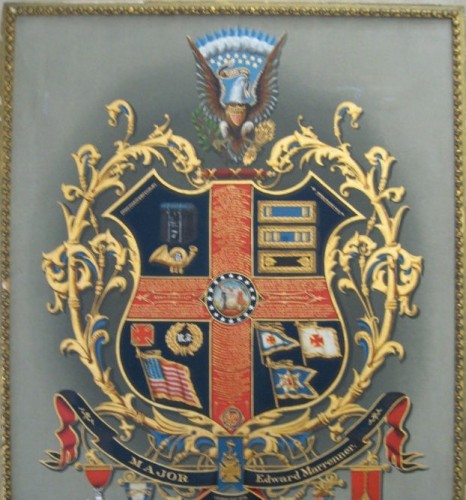 So, I knew that I had to have that painting. And I was able to buy it. Today, when I received my mail, the box I had been waiting for for a week and a half was delivered. It contained this painting that I had purchased for The Green-Wood Historic Fund Collections. This really is a spectacular piece. Great color, great technique. It appears to date from the late 1880s; the brackets holding what appears to be the original frame together are dated 1886. Here's the overview of it.
And below are a few of the fine details; you can really appreciate the work here. Edward Marrenner, it appears, was a man of some wealth. Perhaps he hired an artist, just over twenty years after his Civil War service had ended, to create this spectacular piece as a memorial to his own service. Or, it may have been a gift from a comrade or loved one. We probably will never know. But, whoever had it created, it is a great piece.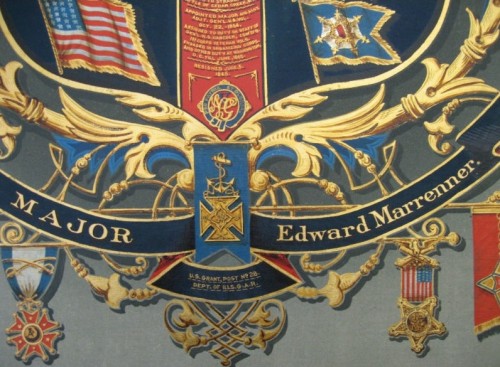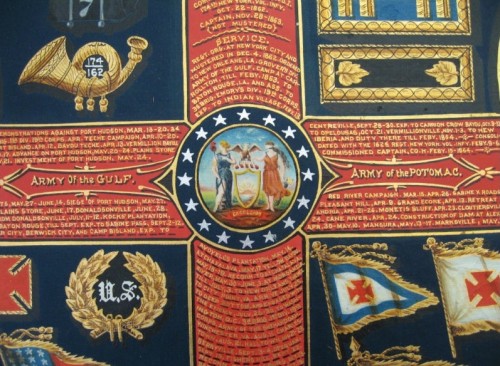 Thanks to Susan Rudin, our great editor of our Civil War biographical dictionary (which now contains over 4,500 entries), who wrote the above biography. And thanks to Sue Ramsey, researcher extraordinaire, for her work on Marrenner. Sue, who is a great Civil War enthusiast, tells me she has never seen a piece like this either.