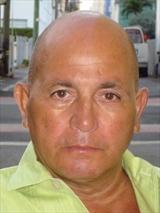 On Friday, November 12, Philip Carlo, who wrote best-sellers about serial killers and hit men, was laid to rest at Green-Wood. He died from Lou Gehrig's disease (A.L.S.) and cancer at the age of 61.
Carlo was born and grew up in Bensonhurst. Here's how he described, in an interview a year ago, the early years of his life and the influences there:
I was born in the same neighborhood. I was raised there. I knew a lot of the same people and went to the same school. I was kind of drawn to that world early on. Mob guys had the money, the power, the girls, the cars, the clothes, which are appealing to a young guy in that neighborhood. To me, the Mafia was like getting a coveted seat on Wall Street or becoming a doctor.
I was hurt (at age 16) in a stupid gang war, let's say. I was shot in the head, and it turned my life around. It made me realize it's not a good thing to hurt people. My thing was "might is right." You knock the other guy down first. I had a long convalescence because of the bullet. And I began reading. I really had no interest in books up until then, but now I was forced to be in the house all day, and I discovered something that I didn't know existed. The wonderful majesty of the written word. The magical power it has.
And I grew my hair long. I decided not to be a tough guy. I left Brooklyn and moved to Manhattan, and that was the saving grace. Once I got to New York City, I wanted to be part of that, not what I knew in Brooklyn. That's exactly what I did. And I learned that, interestingly, crime does pay when you're writing about it, not committing it.
If you would like to read more of this interview, click here.
Carlo did indeed go on to a very successful writing career. He wrote four books of interviews with mass murderers, including The Night Stalker: The Life and Crimes of Richard Ramirez, and The Iceman: Confesssions of a Mafia Contract Killer. The latter is to be made into a movie starring Mickey Rourke next year. Here's a floral arrangement left at graveside.
In 2005, Carlo was diagnosed with amyotrophic lateral sclerosis (A.L.S., also called Lou Gehrig's disease), which is incurable. After that diagnosis, he completed four books, including The Killer Within, about his struggle with that deadly disease. He worked to complete that book against a hard deadline: "my own death."
And below are two other floral displays left at his grave.
If you would like to read more about Philip Carlo, click here to go to his website.