On September 10, 2001, Steven Vincent was an art critic, living in the East Village. But the next day, September 11, the World Trade Center and the Pentagon were attacked, and the world changed. And so did Steven's world.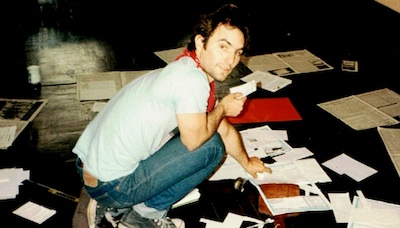 Steven decided that he had a new calling in life: he would go to Iraq to report on the reality on the ground–the battles that were raging there. Ultimately, Steven would pay for that decision with his life. Today, August 2, it is five years since Steven was kidnapped and murdered in Basra, Iraq.
Steven made several trips to Iraq as a freelance reporter in 2003, 2004, and 2005. He paid his own way. He immersed himself in the culture. He befriended a young Iraqi woman, Nouraya Tuaiz, also known as Nour al-Khal, who became his translator. He wrote about his experiences and his conclusions in In The Red Zone: A Journey Into The Soul of Iraq, which was published in 2004. In 2005, he spent much of his time in Basra. On July 31, 2005, his op-ed piece, "Switched Off In Basra," appeared in The New York Times. In it, Steven reported on the dominance of religiously-based militias in Basra, and " . . . that there is even a sort of "death car": a white Toyota Mark II that glides through the city streets, carrying off-duty police officers in the pay of extremist religious groups to their next assignment." Two days later, on August 2, Steven and Nour were kidnapped on the street by four or five men, dressed in police uniforms, driving a white car. Both Steven and Nour were shot several times; Steven died that night, but Nour survived.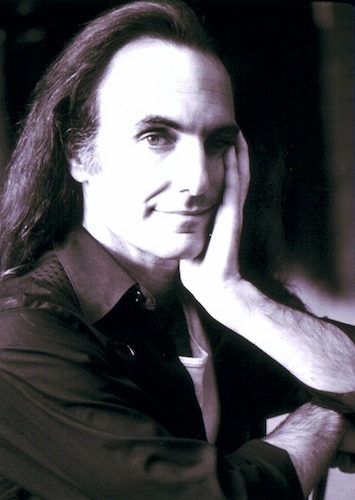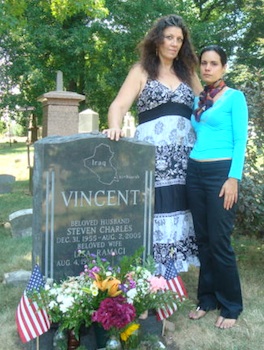 Here are Lisa and Nour, today, paying their respects as Steven's grave at Green-Wood. Note the map of Iraq at the top of the gravestone, with the city of Basra identified at the lower right corner of the map.
For an excellent profile of Steven, written by Lizzy Ratner and published in the New York Observer just days after his death, click here.
Thanks to Lisa Ramaci-Vincent for sharing her photographs of Steven.