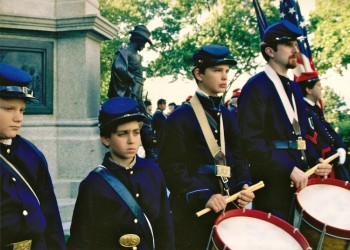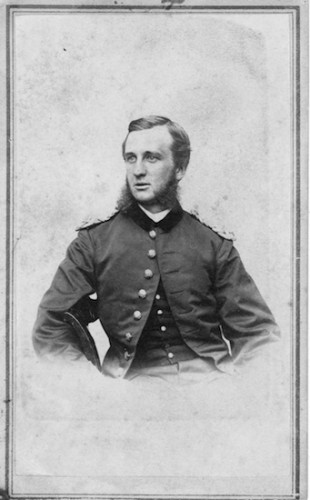 The Brooklyn Daily Eagle has just published a very nice article by Phoebe Neidl on Green-Wood's Civil War Project. Read it here.
I am quoted in the article as identifying Captain William Wheeler of Wheeler's Battery as one of my favorite individuals whom I have discovered since the project began in 2002. Wheeler was a fascinating individual: a graduate of Yale, class of 1855, then studied law at Harvard and the University of Berlin. I have had the privilege of reading some of Wheeler's college essays and Civil War letters; he really was an extraordinary writer, but, more importantly, an extraordinary man. Many of Wheeler's letters are found in my book, Final Camping Ground: Civil War Veterans at Brooklyn's Green-Wood Cemetery, In Their Own Words. You can order it here–it's on sale now at 25% off the usual $30 price–a steal! And it comes with a biographical dictionary on CD, with hundreds of photographs and about 4,000 biographies.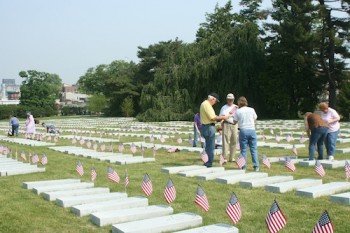 Below is a photograph of some of our Civil War Project volunteers putting flags out for Memorial Day, 2007. Green-Wood's workers laid 1,200 Veterans Administration gravestones out in the Meadow; almost all of those have since been installed at the graves of these men.
This spring is the 150th anniversary of the beginning of the Civil War. We are planning a great sesquicentennial commemoration for Memorial Day Weekend, 2011. You can find the description of our plans on our website. After reading that description, how can you not want to help? Click here to volunteer. We need you! Help us honor the sacrifices that these men made in serving their country–and saving it–during the Civil War.