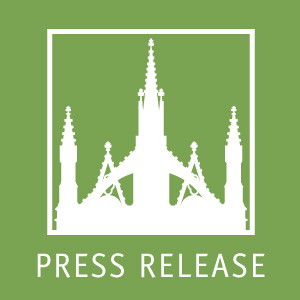 FROM: GREEN-WOOD HISTORIC FUND
CONTACT: Kim Esp/Colleen Roche  212-575-4545
Linden Alschuler & Kaplan Public Relations
Proceeds will Support Historic Preservation Projects,
Educational Programs & Community Outreach Events at
Brooklyn's Historic Green-Wood, A National Historic Landmark
FOR IMMEDIATE RELEASE
(Brooklyn, NY—Thursday, September 16, 2010) – Hundreds of New Yorkers, including civic leaders, government officials, business leaders, preservationists, architects, historians and art lovers gathered tonight for "The Third Annual Benefit for the Green-Wood Historic Fund" at Brooklyn's Historic Green-Wood.  The proceeds will support the impressive array of preservation projects, community outreach events and educational programs that take place at this National Historic Landmark throughout the year.
Elizabeth Barlow Rogers, president of the Foundation for Landscape Studies, was honored with the Historic Fund's DeWitt Clinton Award for Excellence. Educator, historian, author and landscape preservationist, Ms. Rogers is also founding president of the Central Park Conservancy, the public-private partnership she created in 1980 and led for 15 years.
In her landmark tome, Landscape Design, A Cultural and Architectural History, Ms. Rogers writes extensively on the rural cemetery movement in the early 19th century, including Green-Wood's role as the direct predecessor to Central and Prospect Parks. Tupper Thomas, co-founder and president of the Prospect Park Alliance, presented the award.
Brooklyn Borough President Marty Markowitz, one of Green-Wood's staunchest supporters, was on hand for the event.  "I applaud Elizabeth Barlow Rogers, well-deserved winner of the DeWitt Clinton Award for Excellence, for educating us all about the importance of good design, sound management and preservation of our open spaces.  As founding president of the Central Park Conservancy, she helped restore Central Park—designed by Olmsted and Vaux, who would later get it right with our gorgeous Prospect Park—and she enhanced the synergy between these two great parks that continues today. She may have been born in Texas—aka 'Brooklyn Southwest'—but Elizabeth Barlow Rogers has the Brooklyn attitude—always fighting to keep our city green and improving the precious landscapes that are proof of our commitment to civilized urban living."
Ms. Rogers said, "Green-Wood is an extraordinary place. Its architecture, its archives, and of course its spectacular landscape all contribute to its grandeur.  The history of New York City — and indeed the nation — is rooted here among Green-Wood's 478 acres. I would like to thank the Green-Wood Historic Fund for this award and urge all of you here tonight to continue your support of one of our city's greatest treasures."
-over-
The benefit also featured a unique art exhibit in Green-Wood's Historic Chapel: Artists in Permanent Residence, with selected paintings and drawings by some of the 300 artists interred at Green-Wood. Guests also delighted in guided trolley tours of the grounds; live music by the Brooklyn Youth Jazz Collective; and a stunning site-specific dance performance by Dance Theatre Etcetera.
Richard J. Moylan, President of Historic Green-Wood, said, "Green-Wood is steeped in history, dating back more than two centuries.  It's a rich history that truly tells the story of an emerging nation and city.  Thanks to your presence and support tonight, and at our many events throughout the year, it's also a history that will not be forgotten. Your generosity will help us maintain and preserve our wonderful archive collection, as well as continue to develop new and unique programs that will keep us viable for generations to come.
"We also salute Betsy Rogers for her significant contributions to New York City and the nation in the areas of landscape studies and preservation. We are honored by her presence tonight and for accepting our DeWitt Clinton Award for Excellence.  We are also are grateful to Borough President Markowitz, Councilman Gentile, and our Board Chair, C. Payson Coleman, Jr., for their indefatigable work on behalf of Green-Wood,"  Mr. Moylan noted.
Also in attendance were Councilmember Vincent Gentile, Former Brooklyn Borough President Sebastian Leone; Peg Breen, President of the New York Landmarks Conservancy; Landmarks Preservation Commission Member Diana Chapin; David Bragdon, newly appointed Director of the Mayor's Office of Long-Term Planning & Sustainability; architect Hugh Hardy; and landscape architects Nicholas Quennell and Matt Urbanski.
Mr. Moylan extended a deep debt of gratitude to Dance Theatre Etcetera, the Brooklyn Youth Jazz Collective, members of the Host Committee, the hard-working and dedicated staff at Green-Wood, and all the generous sponsors and supporters for their valued contributions that made the benefit an outstanding success.
The Green-Wood Historic Fund, a 501(c)(3) membership organization, was established in 1999 to maintain Green-Wood's monuments and buildings of historical, cultural, and architectural significance; to advance public knowledge and appreciation of this significance; and to preserve the natural habitat of one of New York City's first green spaces.  Additionally, the Historic Fund presents many public events including themed walking tours, lectures and other special exhibits. 
#  #  #
About the Green-Wood Historic Fund: The Green-Wood Historic Fund is a 501(c)(3) non-profit membership organization proactively working to raise funds to conserve and restore Green-Wood's endangered monuments and to preserve its artistic legacy.
Established in 1838, Green-Wood Cemetery stretches across 478 acres and boasts extraordinary works of 19th century art and architecture.  Home to hundreds of famous historic figures, Historic Green-Wood Cemetery offers many tours of its grounds and concerts and events to the public throughout the year. It was designated a National Historic Landmark by the United States Department of the Interior in 2006.  For more information about Green-Wood Cemetery please visit www.green-wood.com .