Gabriel Harrison (1818–1902) was one of those rare men who had not just one, but several remarkable careers. Born in Philadelphia to a long line of artisans, Harrison moved to New York with his family in the 1820s. His father, Charles P. Harrison, an artist and engraver, entertained other artists and philosophers in his home on Reade Street. James Audubon, John Trumbull and other leading men of the era were frequent visitors. The aging former Vice President Aaron Burr was a neighbor; he gave the young Harrison elocution lessons. In his early adolescence Harrison became enthralled by the theater, joining an amateur acting group called the American Histrionic Society. He made his first professional appearance on the stage in 1838 at Wallack's National Theatre in Washington, D.C., playing Othello. Continuing to remain involved with the theater throughout his life, he acted, wrote plays and managed theaters. In 1851, he acted with Charles Kean in Shakespeare's plays and organized the Brooklyn Dramatic Academy.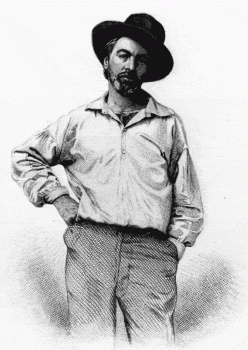 In 1843 while briefly operating a grocery on Broadway and Prince Street in Manhattan, Harrison saw a "small man with a large head looking wistfully" at some of his merchandise. This was the writer Edgar Allan Poe, and Harrison and Poe developed a close friendship until Poe's death in 1849. In 1844, Gabriel Harrison turned his attention to photography, attracted by the new and growing business of daguerreotype galleries in Manhattan. He joined the staff of the leading daguerrean John Plumbe and became a favorite among customers, likely due to his experience as an entertainer. In 1847, Poe sat for Harrison and that daguerreotype is widely recognized as one of the most famous images of the writer. Poe's aunt, Maria Clemm, was so charmed by the image that she gave Harrison a ring that Poe had been wearing at the time of his death. Harrison's images won medals at the Crystal Palace in London (1851) and the New York World's Fair (1853). He opened his own photo gallery in Brooklyn in 1852. Fellow Brooklynite Walt Whitman sought out Harrison to take his portrait for the frontispiece of the first edition of Leaves of Grass; at right is the print made from that photograph.
As a daguerreian, Harrison created photographic images that were celebrated during his life for their artistry, including the "Infant Savior" in which he posed his young son as Jesus Christ carrying the cross. By 1863, however, Harrison appears to have left daguerreotypes and returned to the theater. That year he opened the Park Theatre in Brooklyn, the first regular playhouse in that city, to present a "brilliant array of the beauty and fashion of Brooklyn." There he organized an English opera troupe and introduced the idea of concealed footlights. He was later the lessee and manager of the Brooklyn Academy of Music, where he appeared with William Florence, Matilda Heron, and James W. Wallack (all actors interred at Green-Wood). He was one of the organizers of the Faust Club of Brooklyn, and his efforts resulted in a bronze bust of John Howard Payne being placed in Prospect Park. He served as secretary of the Brooklyn Academy of Design (1867) and promoted its free classes. For his efforts, he was known as "the father of drama in Brooklyn." Harrison also was a skilled painter, producing portraits of close friends Poe and actor Edwin Forrest, as well as landscapes.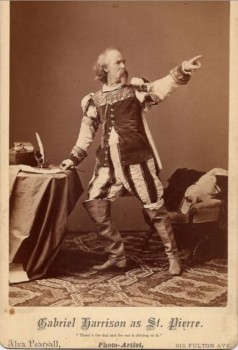 After several years of "nervous prostration", he turned to teaching elocution and acting in Brooklyn, and organized a dramatic department at the Long Island Historical Society. It was Harrison who wrote the chapter on drama, music, and the fine arts for Henry Stiles' landmark history of Brooklyn. Unfortunately, because Harrison played an important part in so many fields, he has not received due credit for his accomplishments. He died at his daughter's home in Brooklyn at the age of 84, and is interred at Green-Wood in lot 8269.
I recently acquired the cabinet card of Harrison above and the one at right for The Green-Wood Historic Fund's Collections. Really great images of Harrison playing St. Pierre in a theatrical performance. And what's really remarkable is that both of these extraordinary photographs were taken by Alva Pearsall (1839-1893). Pearsall, whose studio was at 615 Fulton Avenue in Brooklyn, is also interred at Green-Wood; he is in section 104, lot 28345. Below right are Pearsall's marks that appear on the back of these cabinet cards. Note that Pearsall bills himself as having worked as an artist for Brady; this, of course, is Mathew Brady, the famous 19th century photographer.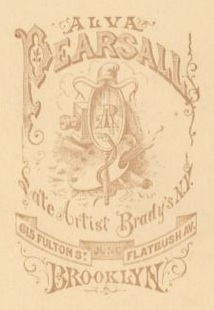 Finally, below is Gabriel Harrison's gravestone. Note that it describes him as artist, author, and actor.
Thanks to our Historic Fund volunteer who researched and wrote the Harrison biography for our biographical dictionary.