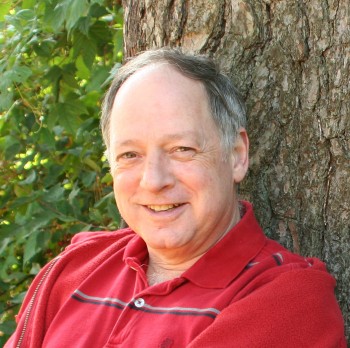 Welcome to the Green-wood Discovery blog. My name is Jeff Richman and I am the historian at Green-Wood Cemetery in Brooklyn, New York. Green-Wood is truly a remarkable place: 478 acres of trees, sculpture, ponds, gardens, and grass-covered hills in the heart of urban Brooklyn. It is my privilege to be the historian at Green-Wood Cemetery, which was founded in 1838 and is one of only a handful of cemeteries in America that have been honored with the designation as National Historic Landmarks.
For as long as I can remember, I have been interested in history–New York City and Civil War, in particular. I practiced law for 33 years, but while I did so I pursued my passions, collecting historical material, particularly stereoviews of New York City. Almost 30 years ago, on a slow buying day at an antique photography show, I purchased my first photograph of a place called Green-Wood Cemetery. At the time I had not heard of the place–and even after I heard the name, I didn't even know if it still existed. I just liked the photograph. I purchased a few more photos of Green-Wood, then saw an ad for a tour of Green-Wood Cemetery, to be led by a professional photographer, a rare opportunity to photograph the historic landscape. I do love taking photographs, so that sounded great, but I had something else in mind: I really wanted to spot the places I knew from those photographs of circa 1870, to see if I could recognize them.
Well, that tour was a big hit with me–it changed my life. After just a few steps into the Cemetery, I was hooked. What an amazing place! So I went back the next day and got a pass to the Cemetery, with permission to take photographs. In 1990, having left trial work for appeals, I decided I wanted to still talk to groups (but no more juries), and that I wanted to lead tours of Green-Wood. And I've been doing tours there ever since. All of this led to research for a book about Green-Wood, published by the Cemetery in 1998 as Brooklyn's Green-Wood Cemetery: New York's Buried Treasure. And, in 2000, I became Green-Wood's historian, working evenings and weekends. Green-Wood Cemetery Historian became my full-time job in May, 2007.
We have just over 561,000 people interred at Green-Wood. The discoveries are endless. The rewards of working with volunteers, historians, and descendants, are great. Organizing volunteers to staff our Historic Fund cart, to share information, maps, self-guided walking tours, books, and much more–to help our visitors enjoy the place–has been great. And leading our Civil War Project, which started 7 years ago, and has resulted in volunteers identifying more than 4,000 Civil War veterans, writing biographies for each, collecting photographs of them, and marking 2,000 of their unmarked graves, has been a thrill. I still can't believe, that 7 years later, volunteers keep coming back for more!
So, this blog is an opportunity to share some of Green-Wood's most exciting discoveries and developments with you. I have long believed that history is fascinating because you cannot make this stuff up. This blog is an opportunity for me to share that sense with you. And, how many people can say that the place where they work has become better every year that they have worked there? That is true of Green-Wood Cemetery. So, whether it's a story of a new discovery, a new planting, or a recent restoration of a monument, you will find news of it here.
And, I hope you will get involved. It is amazing the things that I have learned from people across the world, sharing their knowledge about Green-Wood and it permanent residents. I look forward to hearing from you.