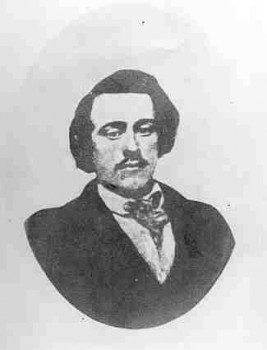 The 150th anniversary of John Brown's raid on Harpers Ferry is just a few weeks away. October 16, 1859, was the date that John Brown led his raid on Harpers Ferry, hoping to capture 100,000 weapons from the arsenal there and to trigger a slave rebellion throughout the South. This threat of a slave insurrection sent tremors through the South, and, with the South's intense reaction, in turn caused many in the North to begin to question the institution of slavery. Brown led 19 men on his raid. One of them was Captain John Cook. Cook, born in Connecticut, attended Yale, then studied law in New York City.
Inspired by Rev. Henry Ward Beecher's abolitionist speeches, Cook headed to Kansas and joined Brown's bloody battles in Kansas during 1855 and 1856. Cook was the only captain in Brown's army who was not one of Brown's sons. In 1858, Brown sent Cook to Harpers Ferry as a spy. Cook stayed there for a year, married the school teacher, Virginia Kennedy, and reported back to Brown with maps and information about trains schedules, militia strengths, and slave populations. Cook took part in the John Brown raid. Historians consider that raid one of the key events that triggered the Civil War. In the wake of the raid, Cook managed to escape to Pennsylvania, but was captured there (see for the monument in Pennsylvania that was placed 100 years ago to mark the place of his capture:  by slave hunters and was taken back to Virginia. In jail, he wrote an 8-page confession, implicating the leading abolitionists who had vehemently denied any involvement. On December , 1859, John Cook was executed. His remains were returned to his family and he was interred in Cypress Hills Cemetery. A few year later, his remains were brought to Green-Wood Cemetery, where he was interred in the lot of his brother-in-law. Here's Captain Cook's monument at Green-Wood: As you can see, this monument is not easy to read. I had walked by it many times over the year within reading it. But, in May, 2003, at the end of a day in which about 75 volunteers had combed the cemetery grounds, looking for gravestones identifying Civil War veterans, I was approached by one of our volunteers who told me that she had come across an interesting monument. It was not, she made clear, a monument to a Civil War veteran. However, perhaps I would be interested anyway–it said something about John Brown's raid. So we went right out and there it was:
"CAPT. JOHN E. COOK, WHO DIED FOR THE CAUSE OF EMANCIPATION AND HUMAN LIBERTY WITH THE NOBLE PATRIOT JOHN BROWN. AT CHARLESTO(W)N VIRGINIA DECEMBER 16 1859." For more on Captain John Cook. The New-York Historical Society is presenting "JOHN BROWN: THE ABOLITIONIST AND HIS LEGACY."
This exhibition, mounted for the 150th anniversary of the raid on Harpers Ferry, runs from September 15, 2009, through March 25, 2010. For more information.