It really is hard for me to go anywhere and not find something that's related to Green-Wood. I just got back from ten days in Savannah, Georgia, and Charleston, South Carolina. Really a great time of year to visit those cities–a chance to extend the warm weather a bit before being engulfed in a New York winter. Anyway, I had a great time–thanks for asking–and found many Green-Wood connections on the trip.
Savannah is wonderfully walkable city. Flat and easy to navigate. It was laid out in the 18th century, with picturesque squares characterized by trees, Spanish moss, sculpture, benches and plantings. One of the squares has a great monument to the Revolutionary War hero Casimir Pulaski. Last time I was in Savannah, this monument was in pieces, having been taken apart for restoration. It has been lovingly restored. It is by Robert Launitz, a New York sculptor. Here it is.
Launitz's name may ring a bell for you Green-Wood afficiandoes. He sculpted the Firemen's monument (shown here) and the monument to the Indian Princess, Do-Hum-Me, at Green-Wood. The similarity of the designs of the Pulaski Monument and the Firemen's Monument is apparent.
Here's Launitz's signature on the Pulaski Monument. It is pretty distinct. I wonder if they recarved it when they worked on this monument. He also signed the Firemen's Monument at Green-Wood, but his signature is barely readable now.
In Savannah, I visited the Ships of the Sea Maritime Museum. An interesting place–in an historic house, rehabbed in the last few years, then set up with exhibitions. I hadn't expected to find Green-Wood connections here, but there they were. In the first room there was a model of the ship Wanderer. Built as a very fast racing yacht for a New Yorker, it soon was converted into a slave ship. On November 28, 1858, it unloaded its human cargo, more than 400 Africans, on Jekyll Island, Georgia. This was the last slave ship to bring Africans to America.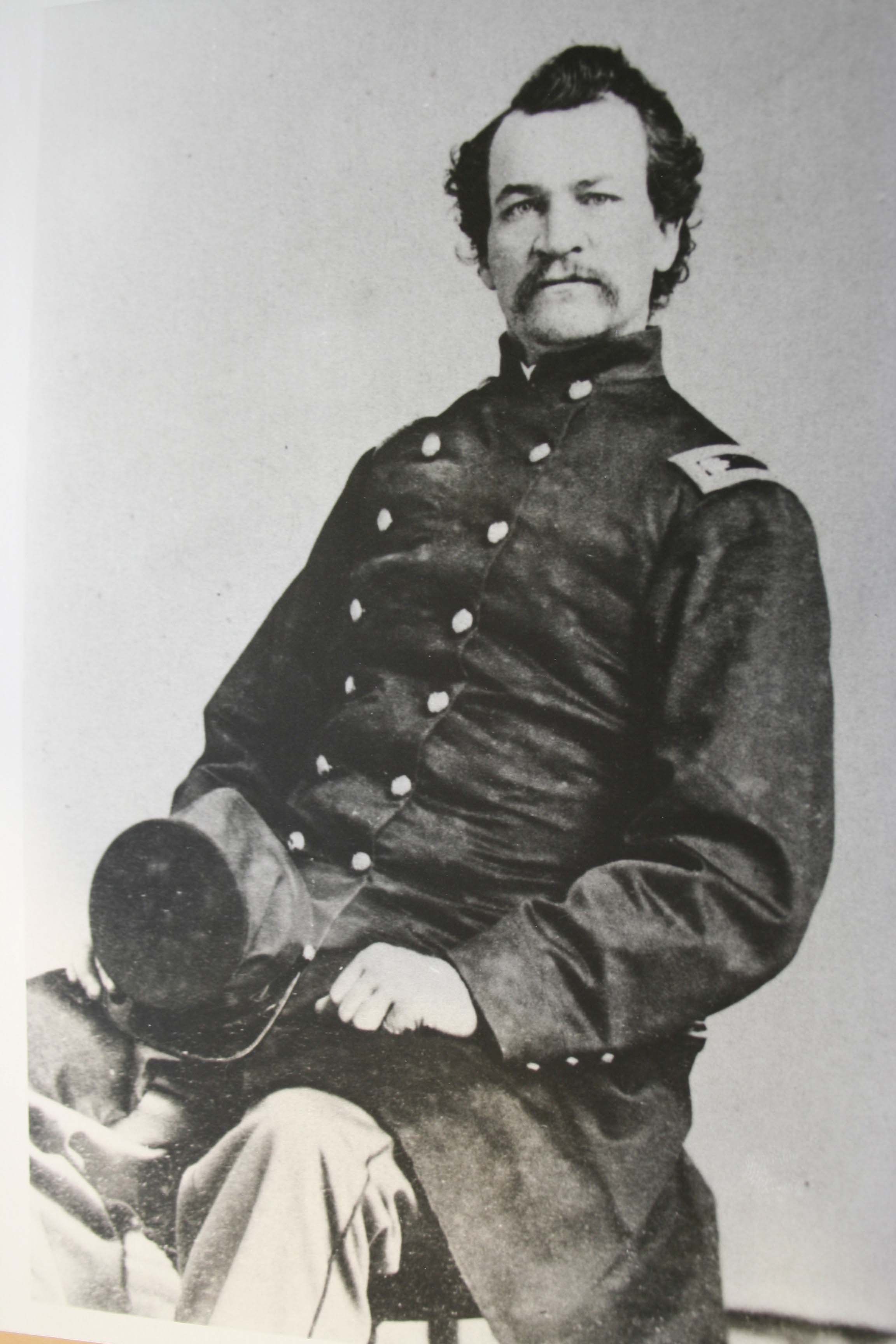 Its captain was adventurer John Egbert Farnum. Farnum, you might have guessed, is interred at Green-Wood Cemetery. He was tried and convicted, served time in prison, and regretted his actions as a slaver for the rest of his life. After his release, Farnum fought for the Union during the Civil War, ultimately rising to the rank of brevet general. This story is told in The Wanderer: The Last American Slave Ship and The Conspiracy That Set Its Sails, by Erik Calonius, published in 2006 by St. Martin's Press. Above is General Farnum in his Union uniform.
And, in the next room, there were several models of steel-hulled ships. Now, I knew that Irish-born John Roach, also interred at Green-Wood, was considered the leader of the iron-hulled ship industry in America. And, sure enough, these were models of ships that he had built–the latest technology on the high seas. Here's one of the models–the Kansas City, 327 feet long, powered by steam and sails, the largest and fastest of the fifteen vessels he would build for the Ocean Steamship Company over a thirty year period. It was the height of luxury.  Roach has a large lot at Green-Wood, just up Battle Avenue, near the Anderson tomb up on the hill. Here's his lot.
I was in Charleston about fifteen years ago and I remember that there was something in the City Hall that related to Green-Wood. I just wasn't quite sure what it was, but thought it might be a painting.. So, I went inside and wended my way upstairs. There it was, in the City Council chamber: a painting of President James Madison, painted in 1819 by Samuel Finley Breese Morse. Morse is one of Green-Wood's most famous permanent residents. He had three amazing careers. First he was a painter–the leading painter of his time, the first president of the National Academy of Design. Then he was a pioneering photographer. And, finally, he is best remembered for his invention of the telegraph–an invention that revolutionized human communication, making it possible to send messages at a speed faster than a note could be carried.
And here's Morse himself: