GREEN-WOOD HISTORIC FUND AND BROOKLYN HISTORICAL SOCIETY
ANNOUNCE STRATEGIC PARTNERSHIP
RECIPROCAL MEMBERSHIP BENEFITS OFFERED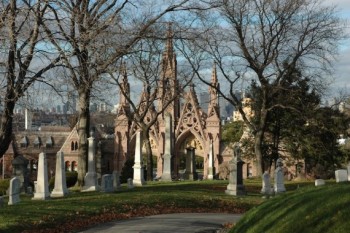 (BROOKLYN, NY – January 16, 2013)  The Green-Wood Historic Fund (GWHF) and Brooklyn Historical Society (BHS) announced today that they have entered into a one-year strategic partnership to collaborate on important public projects that celebrate the history of the two institutions, the Borough and the nation. Capitalizing on the complementary resources of each, the partnership will allow the GWHF and BHS to develop dynamic programming that reaches new and expanding audiences.
The partnership comes as each respected center of history, culture and education marks an
historic milestone: Green-Wood Cemetery's 175th
anniversary and Brooklyn Historical Society's 150th.
"Over the past decade, Green-Wood has become a true cultural destination," said Historic Fund and Cemetery President Richard J. Moylan.  "Our public programs and educational offerings reflect our role as a center of history, architecture, learning and art. In partnership with Brooklyn Historical Society, the possibilities for expanding and enhancing our programs are endless. We look forward to an exciting collaboration."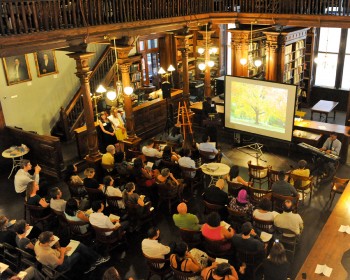 Deborah Schwartz, President of Brooklyn Historical Society, said, "Brooklyn Historical Society and Green-Wood Historic Fund in partnership share hundreds of years of Brooklyn history. We are thrilled to bring together the valuable resources and magnificent physical spaces of these two venerable institutions to serve the dynamic communities of Brooklyn with expansive, creative programs."
The Green-Wood Historic Fund is a not-for-profit membership organization that maintains and preserves Green-Wood Cemetery's monuments and buildings of historical, cultural, and architectural significance through member fees and private donations. Its tours, educational programs and cultural offerings enhance the public's awareness of this National Historic Landmark, which was incorporated in 1838.
Founded in 1863, Brooklyn Historical Society is a nationally recognized urban history center dedicated to preserving and encouraging the study of Brooklyn's extraordinary 400-year history.  Located in Brooklyn Heights and housed in a magnificent landmark building designed by George Post and opened in 1881, today's BHS is a cultural hub for civic dialogue, thoughtful engagement and community outreach.
Through this mutually beneficial partnership, GWHF and BHS plan to collaborate on the creation of joint educational and cultural programs; public events celebrating the Borough, as well as Green-Wood's 175th anniversary and the 150th anniversary of BHS; the development of Green-Wood's Visitors Center located in the landmarked Weir Greenhouse; programs focusing on the organizations' extensive Civil War history and archives; and other initiatives.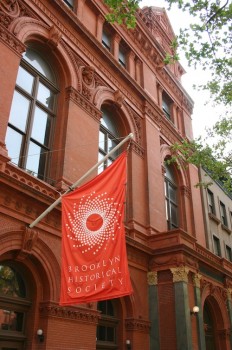 Jim Rossman, Chairman of Brooklyn Historical Society Board of Trustees, said, "This milestone partnership between our two institutions will dramatically increase the public's awareness of Brooklyn's important role in the development of our city and our nation.  The Brooklyn Historical Society Board looks forward to working with Green-Wood on a wide range of projects over the next year."
Added Payson Coleman, Chairman of the Green-Wood Historic Fund Board of Directors, "For many years, the Green-Wood Historic Fund and Brooklyn Historical Society have each been working – separately – toward a common goal. Together we will elevate these efforts to a new level. I congratulate my fellow Board members for their vision in allowing this strategic partnership to move forward."
Members of both institutions will enjoy reciprocal benefits including member discounts on Green-Wood trolley tours and other events, free admission to the Brooklyn Historical Society and shared perks. These benefits are in place now and will extend through all of 2013.
At the end of the year, the two Boards will re-examine the partnership and evaluate opportunities for future collaboration.
#  #  #
Founded in 1863, Brooklyn Historical Society is a nationally recognized urban history center dedicated to preserving and encouraging the study of Brooklyn's extraordinary 400-year history. Located in Brooklyn Heights and housed in a magnificent landmark building designed by George Post, Brooklyn Historical Society is a cultural hub for civic dialogue, thoughtful engagement and community outreach. Brooklyn Historical Society connects the past to the present and makes the vibrant history of Brooklyn tangible, relevant, and meaningful for today's diverse communities, and for generations to come.  www.brooklynhistory.org
The Green-Wood Historic Fund is a registered 501(c)(3) not-for-profit membership organization established in 1999 to maintain Green-Wood Cemetery's monuments and buildings of historical, cultural, and architectural significance; to advance public knowledge and appreciation; and to preserve the natural habitat of one of New York City's first green spaces. Incorporated in 1838, Green-Wood Cemetery stretches across 478 acres and boasts extraordinary works of 19th-century art and architecture.  Home to hundreds of famous historic figures, historic Green-Wood Cemetery offers many tours of its grounds, concerts and events to the public throughout the year. Green-Wood has been designated a National Historic Landmark by the United States Department of the Interior.  www.green-wood.com
CONTACT: Colleen Roche
212-329-1413; croche@lakpr.com
LAK PR