Presented By Naming The Lost Memorials, City Lore, And The Green-wood Cemetery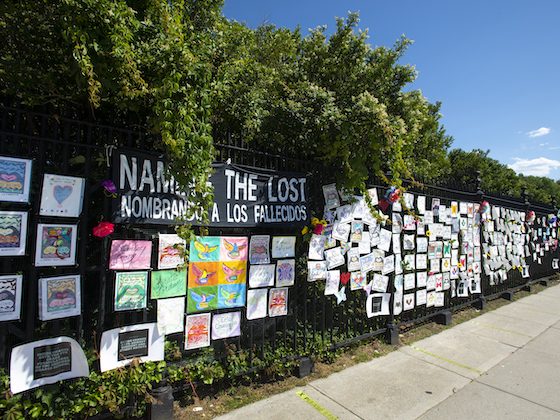 NAMING THE LOST Memorials and City Lore, with a grant from the Mellon Foundation, presents THE MANY LOSSES FROM COVID-19, a community public art memorial at The Green-Wood Cemetery. Created with help from twenty New York City community partners, the memorial will be on view from May 3–May 29, 2023 along the fence at Green-Wood's Main Entrance at 25th Street and Fifth Avenue in Brooklyn. The public is invited to a memorial activation and dedication ceremony on Thursday, May 11th from 6–8:30pm at Green-wood (scroll down for details).
From May 2020–June 2021, NAMING THE LOST Memorials (NTLM), a small team of volunteer artists, activists, and folklorists, curated memorial sites in New York City to name and remember victims of the COVID-19 pandemic. The memorials consisted of tens of thousands of nameplates with personalized drawings and photos, created by the families and friends of those who have lost loved ones to the virus. With a grant from the Mellon Foundation, NTLM, in collaboration with City Lore, will continue its work from 2023-2025. Green-Wood will be home to new memorials each spring.
This year, THE MANY LOSSES FROM COVID-19 will be displayed along the Cemetery's historic wrought-iron fence near the Main Entrance. Packed tightly from top to bottom on the fence, it will stretch horizontally for 200 feet. The memorial will be on view from May 3–29, 2023 to honor the over 1.1 million people in the United States, including more than 79,000 here in New York City, who have lost their lives to COVID-19. It's also an opportunity to remember other losses associated with the pandemic: loss of time, relationships, jobs, health, taste and smell, and more. During this time, the public is encouraged to create and add their own nameplates to the memorial. There will be dedicated space on the memorial for public participation.
ACTIVATION CEREMONY
Thursday, May 11th, 6–8:30pm
We ask the public to join us for the dedication and activation of the memorial in front of Green-Wood's Historic Chapel. The ceremony will bring together the NTLM team and community partners for an evening that will include a procession, drummers representing the five city boroughs, traditional singers, and a participatory ritual of remembrance. We welcome all to join us in commemorating those who have fallen to COVID-19 and remember them together.
For access needs and covid harm reduction information, visit namingthelost.com/memorials
PLANNING TEAM
Juan Aguirre, director of Mano a Mano
Sandra A. M. Bell, artist and producer
Elena Martínez, folklorist and producer
Megan Paradis Hanley, theater artist and educator
Jenny Romaine, artist, organizer, and educator
Kay Turner, folklorist and performer
Steve Zeitlin and Molly Garfinkel, City Lore co-directors
COMMUNITY PARTNERS
Bronx:
Casa Yurumein
Brooklyn:
Arab American Association of New York
Guyana Cultural Association
Mixteca
Museo de Los Sures
Parent Child Relationship Association
Project Reach Youth Safe
Purelements Evolution in Dance
Women's Empowerment Coalition of New York
Manhattan:
The City's "Missing Them"
The W.O.W. Project
Yaffa Cultural Arts
Queens:
Bangladesh Institute of Performing Arts
The Jews of Jackson Heights
International Dancer Zaman
Staten Island:
La Colmena
Staten Island Museum
Multiple locations:
Jews of Color arts workshop ("The Workshop")
Long Covid Justice
New Moon Sisters
FUNDERS
We thank these funders for their generous support:
The Mellon Foundation