What Killed Baseball's First National Star? Trolley Tour
October 15, 2016, 1:00pm

–

3:00pm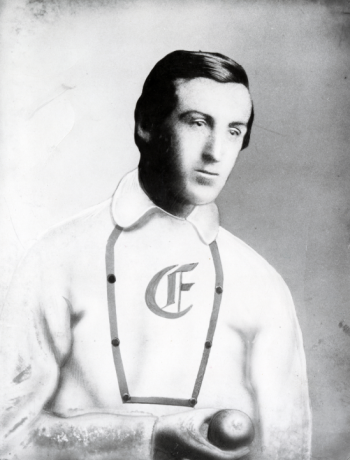 Brooklyn Excelsior Jim Creighton invented modern pitching. He dominated with a blazing fastball and, possibly, the first curveball. After an undefeated road record in 1860, Creighton was baseball's brightest star at age 21. He did not live to see 22. His shocking death in 1862 was immediately controversial. Did he die from a sports injury? Creighton excelled at both cricket and the young sport of baseball; each camp blamed the other for his death. Was one of them right? Or was something — or someone — else responsible?
Join baseball historian and author Tom Gilbert to examine these and other burning questions. You'll visit Jim Creighton's magnificent baseball-themed grave, as well as those of other Green-Wood residents who are witnesses or players in the fascinating tale of his death – including outfielder Jack Chapman, who claimed to be a witness to Creighton's fatal accident; baseball writer and rules authority Henry Chadwick; Creighton's teammate and pallbearer Harry Polhemus; and team president and physician Dr. Joseph B. Jones, who remained oddly silent about the medical condition that recent scholars suggest might have been the real cause of Creighton's death.
$15 for members of Green-Wood or BHS/$20 for non-members.
Green-Wood trolley tours are fully accessible and ADA compliant. In order to accommodate a wheelchair or other mobility device on the trolley, advance arrangements must be made. Please call (718) 210-3080, ext. 1. Please note that portions of the tour take place outside the trolley and may require exiting the vehicle on multiple occasions. Please contact the Historic Fund for more information.
All events will take place rain or shine. Click here for our inclement weather policy.