1 p.m. The Work of Currier & Ives Talk and Tour
November 17, 2012, 1:00pm

–

3:00pm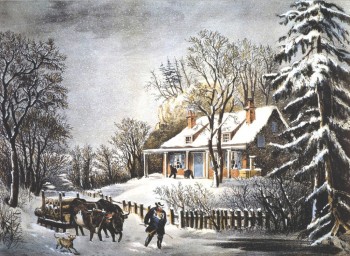 More than 150 years before Americans adorned their homes with mass-produced prints from Pottery Barn or Home Depot, the business team of Nathaniel Currier and James Merritt Ives created an industry of art for ordinary people.
The firm of Currier & Ives proclaimed itself to be the "Grand Central Depot for Cheap and Popular Prints" and singlehandedly democratized art in America. Over the span of their careers, Currier and Ives produced more than seven thousand prints that sold in the millions of copies. At one time, 95 percent of all lithographs in circulation in the United States were from the firm of Currier & Ives. Nathaniel Currier and James Merritt Ives are both interred at Green-Wood.
Join Robert K. Newman, a third-generation owner of the Old Print Shop on Lexington Avenue in Manhattan and expert on Currier & Ives, for an in-depth look at this legendary team. After the talk, join Green-Wood historian Jeff Richman for a trolley tour with stops at the graves of Currier, Ives and other artists from the firm, including Fannie Palmer, the only woman in an otherwise all-male business.
This event has two parts, with separate tickets for each part:
The free talk in the historic Green-Wood chapel.

A guided trolley tour immediately following the talk. Tickets are $15 for members of the Green-Wood Historic Fund and $20 for non-members.
Seating is limited for both the talk and the trolley tour, and reservations are recommended.
To purchase tickets, call 718-210-3080 or order online using the Ticket Information box below — click to Order Now or Enter Promotional Code (Member ID#) and you will be redirected to our Eventbrite ordering page. Please include both free talk tickets and trolley tour tickets in your order if you would like to attend both parts of the event.
If you are using a credit card linked to a non-U.S. address, or if you've typed in a billing address that does not match that of your credit card, you may see an error message when ordering. If so, please call us at 718-210-3080 from Mon-Fri 8am-4pm Eastern Standard Time or email us at info@greenwoodcemetery.org and we will help you complete your order. Thank you.
Not a Member?
Get a free ticket with a membership at left and purchase additional Member Discount Tickets if desired. Click here for all of our membership levels and information.
Already a Member?
Click the "Enter promotional code here (G-W Members: Use your Member ID)" link in the bottom right corner of the ticket box and enter your ID number to apply your ticket discount. Please note that the Senior, Individual and Student membership levels are limited to only one Member Ticket per event (for additional tickets, please purchase at the regular price).
Questions?
Don't know your Member ID number? Not sure which ticket or membership type to order? Call 718-210-3080 or email contactus@green-wood.com with any questions.