8 p.m. The Spoon River Project
June 23, 2011, 8:00pm

–

10:00pm
Thursday, June 23, 2011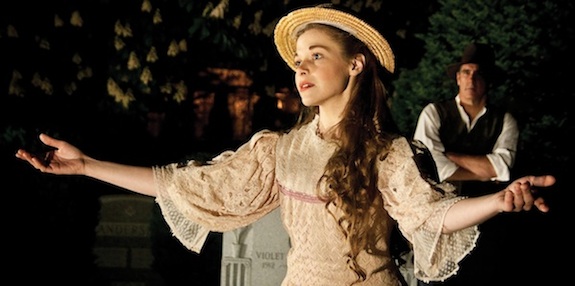 "If you want to know what life is about, listen to the dead.
That is . . . when they talk to you."
TICKETS: $20 in advance and $25 at the door. Students pay $18 with valid ID at the door. Click here to purchase advance tickets online, and click here for more info and a full list of shows.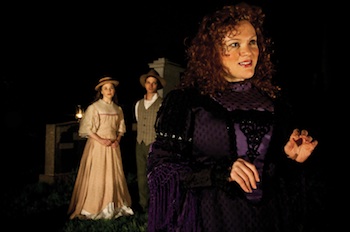 Imagine sitting deep within Green-Wood Cemetery on a beautiful summer's night when some of its permanent residents begin to appear in the distance, assemble in front of you, and one by one divulge their secrets, their private thoughts, their regrets and the turmoil that filled their lives.
Accompanied by songs including "Shall We Gather at the River," "Softly and Tenderly" and "In the Gloaming," 11 actors tell a story of the fictional town of Spoon River through its residents who have since left this world. Playwright Tom Andolora of Brooklyn College has adapted the classic American work by Edgar Lee Masters for the stage and directs the production as well.
IMPORTANT:
For mature audiences only. Admission is restricted to ages 15 and over.
No alcohol or food is permitted in the cemetery.
Please arrive at Green-Wood's main entrance (25th Street and Fifth Avenue) by 8:00 p.m. sharp. All ticket holders will then travel by Green-Wood trolley to the middle of the cemetery, where the performance will take place.
Audience members must board the trolley to travel to the site of the play. Anyone who is late will miss the trolley and miss the show.
Chairs and benches are provided for the audience.
The performance begins at 8:30 p.m. and lasts one and a half hours with no intermission. Ticket holders will then return, via trolley, to Green-Wood's main entrance.
Flash photography is not permitted during the performance.
If there is rain the night of the performance, please check our website or call 718-210-3080 for show status. If the show is rained out, ticket holders can use their tickets for any other night of the performance.