(SOLD OUT) The JACK Quartet: Modern Medieval
September 24, 2018, 6:30pm

–

9:00pm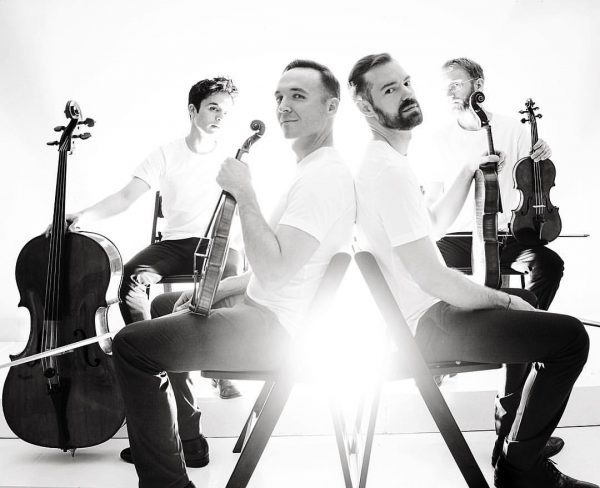 Select another Angel's Share event (Concerts in the Catacombs) in the summer series.
You may join the waitlist below.
Make sure you never miss out on tickets again! Green-Wood members get access to tickets weeks before the general public. Join today.
The JACK Quartet were called "superheroes of the new music world" by The Boston Globe, and there could be no more apt description for this endlessly adventurous ensemble. They've played pieces completely in the dark, performed on a raft in the middle of a lake, and more. For The Angel's Share, they will play an extraordinary program that follows a musical thread from medieval plainsong through to the present day, drawing sonic similarities from wildly divergent works and echoing the timelessness of the space surrounding them.
The Program: Solage – Fumeux Fume part Fumee; Rodericus – Angelorum Psalat arr. Christopher Otto; Thomas Morley – Cristes Crosse; Chaya Czernowin – String Quartet; Brian Ferneyhough – Dum Transisset; Marc Sabat – Jean-Phillipe Rameau
The Performers: Christopher Otto, violin; Austin Wulliman, violin; John Pickford Richards, viola; Jay Campbell, cello
The Angel's Share, a new series of opera and chamber music concerts, takes place in Green-Wood's Catacombs. One of the oldest structures in the 478-acre National Historic Landmark Cemetery, the Catacombs were built in the 1850s and are normally closed to the public. The series takes its name from the distiller's term for whiskey that evaporates while maturing in the barrel, thus going to the angels.
Each performance includes a pre-concert reception at sunset overlooking New York harbor and the Manhattan skyline.
$75 for members of Green-Wood and BHS / $80 for non-members
PLEASE NOTE: Ticketholders must be 21 years or older.
Click here for our inclement weather policy.
Not a Member?
New or renewing members are entitled to one free tour ticket a year! This could be a free ride: Click here for all of our membership levels and information. Free tickets must be arranged by phone. Please call (718)210-3080 to redeem.
Already a Member?
Click the "Enter promotional code here (members, use your ID#)" link in the bottom right corner of the ticket box and enter your ID number to apply your ticket discount. Please note that the Senior, Individual and Student membership levels are limited to only one Member Ticket per event (for additional tickets, please purchase at the regular price).
Questions?
Don't know your Member ID number? Not sure which ticket or membership type to order? Call 718-210-3080 or email contactus@green-wood.com with any questions.