The Doorway to Joe: The Art of Joe Coleman
July 12, 2018, 6:30pm

–

8:00pm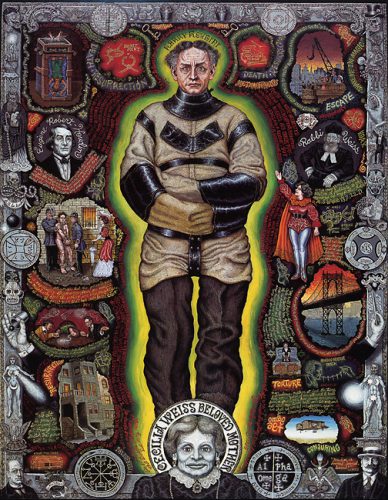 A Conversation with the Artist
"If P.T. Barnum had hired Breughel or Bosch to paint sideshow banners they might have resembled the art of Joe Coleman." – The New York Times
"Terrible things happen in Joe Coleman's paintings. Flesh rots. Sores weep. The flames of hell burn brightly. Perversion runs rampant. Things fall apart: Bodies. Cities. The whole social order. Yet there's beauty here, too: The colors dazzle, the detail astounds. And a stalwart symmetry surrounds his aberrant images, a symmetry born of both faith and fear" – Nancy Shulins, Associated Press
Renowned iconoclast and painter Joe Coleman sits down for a conversation with Harold Schechter, professor of American literature and popular culture at CUNY's Queens College. The reception will include an exclusive sneak peak of the upcoming feature documentary about Coleman.
This program is presented in partnership with Morbid Anatomy and takes place in Green-Wood's Historic Chapel, just a short distance inside the main entrance at 5th Avenue and 25th Street.
$15 for members of Green-Wood and BHS / $20 for non-members.
Click here for our inclement weather policy.