7:30 p.m. Members Only: Silent Night – Classic Movies in a Gothic Setting
December 12, 2014, 7:30pm

–

10:30pm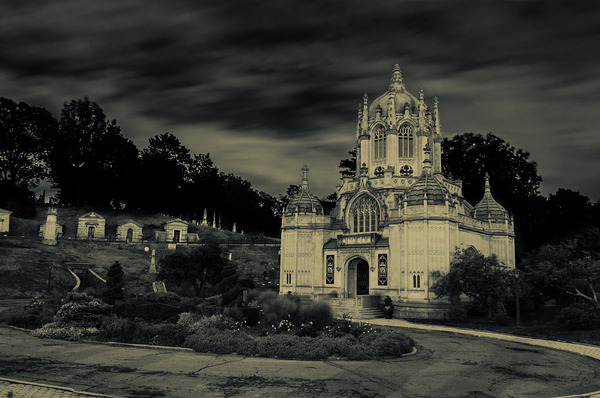 Gather in Green-Wood's cozy historic chapel for a night of "cemetery silents", music, and hot drinks. Throughout the silent film era, filmmakers and comedians used people's unease of spirits and cemeteries to create gag sequences and plot twists.
Our program of short films made between 1914 and 1928 follows the exploits of Bert Williams, Shep the Thanhouser dog, the Hal Roach All-Stars, and Laurel & Hardy as they tip-toe through the silver-screen tombstones. And Ben Model, one of the nation's leading film accompanists, will introduce the films and score each one live on the piano.
Green-Wood is proud to offer this winter event exclusively to our generous and supportive members. Join us to see these cemetery-themed films with live music in a gorgeous silent-era chapel!
Refreshments will be available for purchase. Tickets are $25 for members of Green-Wood. To get tickets, please enter your member ID where noted in the ticket box below.