Secret Mausoleum Music Club
May 27, 2021
,
6:30pm
–
9:30pm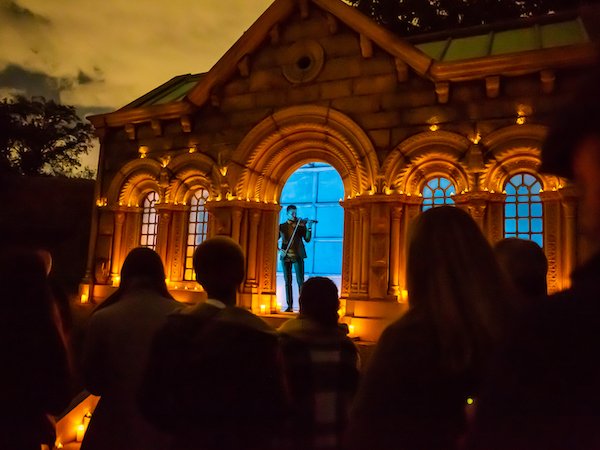 Everyone loves a good secret, right? Well you won't want to miss out on this one!
Arrive after Green-Wood's gates close to the public for a night filled with unexpected discoveries, explorations of the past, and enthralling music—all set in New York's most enchanting landscape. Each meeting of the Secret Mausoleum Music Club is a unique, one-night experience, featuring mausoleums rarely open to the public, performance stages curated by Death of Classical, and entertainment provided by Bindlestiff Family Cirkus. We can't tell you much more, you'll have to experience it for yourself!
Important things to note:
This program is for adults, 21 years and older.
Arrive at the time on your ticket (either 6:30pm, 6:45pm, or 7:00pm).
The music begins at 7:30pm, and you will be able to move between the performance stages.
The mausoleums will be open for you to peek inside of the entire night.
Bring a blanket to get comfortable while listening to the music; chairs are prohibited. Snacks and water are welcome, but no picnics or alcohol are permitted.
The walk to the performance site is 15-20 minutes, and goes over hilly and sometimes uneven terrain. Appropriate footwear is recommended.
Membership discount is not applicable for this series.
Attendees are expected to follow all necessary health and safety protocols as directed by the Cemetery's staff and volunteers.
$50, no member discount available. There are no paper or e-tickets. Attendees will be checked in by name.
In the event of inclement weather and cancellation, tickets will be honored on these dates:
This May 27th event is the rain date from the cancelled performance on May 26th
June 30: Backup date July 1
July 21: Backup date July 22
No refunds will be issued. Click here for our inclement weather policy.
Mandatory Safety Protocols
– Attendees must wear a face covering at all times and maintain at least a 6-foot distance from those not in their group.
– Follow ALL instructions and guidance from Cemetery staff and ambassadors.
– Travel Safely: Green-Wood recommends following all safety precautions while traveling to and from the Cemetery, whether by foot, mass transit, or driving. If taking mass transit, please check the MTA's guidelines.
– Feeling Sick? Stay home if you are feeling sick or running a temperature. Please use good judgement if you have recently been exposed to someone with COVID-19. For more information about COVID-19, please check the CDC website.
– Green-Wood reserves the right to deny entry to any visitor who refuses to comply with the safety guidelines.
If you observe a situation or behavior that does not reflect these protocols, please advise an ambassador or other staff member immediately. With everyone's cooperation this will be a memorable and safe unique experience.