Post Turkey Day Tour
November 27, 2020
,
1:00pm
–
3:00pm
After you've devoured the turkey and stuffed yourself with pumpkin pie, escape from the house—especially if you need a break from multiple Zoom gatherings—and enjoy a walking tour of Green-Wood. Or if the whole family is still getting along, bring everyone!
Be sure to dress warmly to enjoy a late autumn stroll in one of New York's most beautiful and historic greenspaces. The walk is over hilly and uneven terrain, comfortable footwear is encouraged.
Tickets are $25/$20 for members.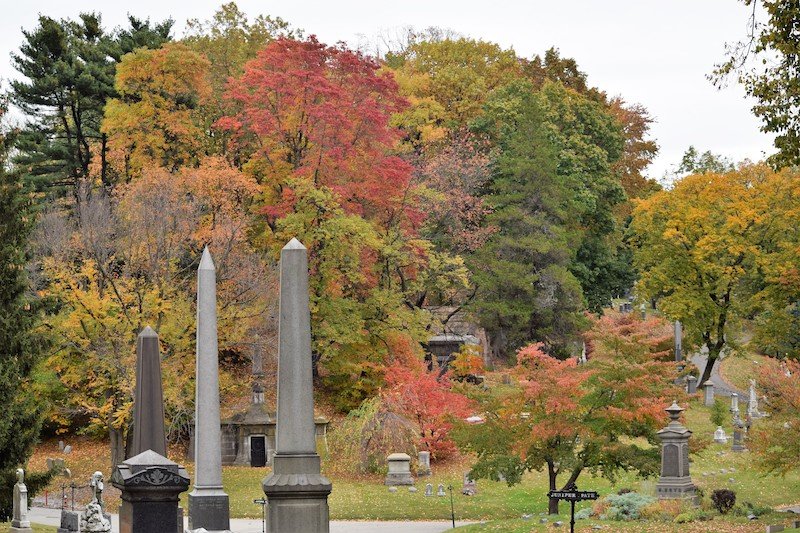 Mandatory Safety Protocols
– Attendees must wear a face covering at all times and maintain at least a 6-foot distance from those not in their group.
– The tour guide will be using a voice amplifier to ensure all social distancing protocols are adhered to.
– Follow ALL instructions and guidance from Cemetery staff and ambassadors.
– Travel Safely: Green-Wood recommends following all safety precautions while traveling to and from the Cemetery, whether by foot, mass transit, or driving. If taking mass transit, please check the MTA's guidelines.
– Feeling Sick? Stay home if you are feeling sick or running a temperature. Please use good judgement if you have recently been exposed to someone with COVID-19. For more information about COVID-19, please check the CDC website.
Green-Wood reserves the right to deny entry to any visitor who refuses to comply with the safety guidelines.