Nineteenth-Century New York in 3D
January 20, 2021
,
6:00pm
–
7:00pm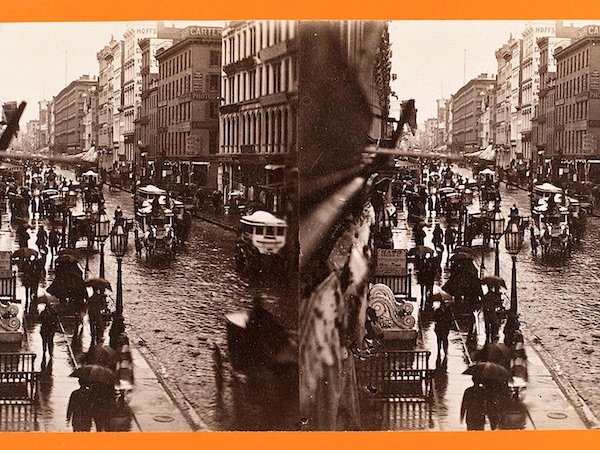 It's your best opportunity to time travel back in time to the New York City that you were born too late to live in! Over a span of four decades, Jeff Kraus has put together an extraordinary collection of stereoviews of life in the burgeoning metropolis. In the nineteenth century, stereoviews were a popular type of photograph, created using a technique that gave the appearance of three-dimensional images. Jeff will be joined by another Jeff, Green-Wood Historian Jeff Richman, for a lively discussion of some of the most fascinating images of the city that so many of Green-Wood's permanent residents lived in and knew so well. Sign up early to make sure you get your 3D glasses well before this event.
PLEASE NOTE: Everyone who signs up for this program by the end of day on Monday, January 5th will be mailed a pair of 3D glasses. Tickets purchased after this date will not be mailed a pair of glasses. You will need these glasses to properly experience the program. When purchasing your ticket, please make sure that the home address you enter on Eventbrite is your mailing address.
$9 / $4 for members. A Zoom link will be in your confirmation email upon registration.
This conversation is part of our series of virtual programs about the history of Green-Wood and its permanent residents, Zooming in on History.
Not a Member?
Click here for all of our membership levels and information.
Already a Member?
Click the gray tickets button to activate the Eventbrite pop-up, then click Enter promo code. Type in your ID number and apply your discount.
Questions?
Don't know your Member ID number? Not sure which ticket or membership type to order? Call 718-210-3080 or email contactus@green-wood.com with any questions.