Mycoblitz: City Nature Challenge Group Fungi Survey
May 1, 2021
,
10:00am
–
12:00pm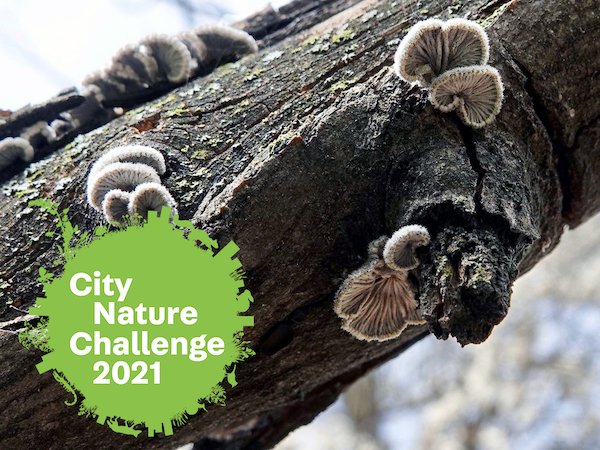 Participate in the Citywide Nature Challenge at Green-Wood! Join Sigrid Jakob and Potter Palmer of the New York Mycological Society for a guided Mycoblitz (the first official 2021 group survey of Green-Wood fungi for the Fungi Phenology Project). Orientation, training on data collection (with a focus on using the iNaturalist app), and materials to help with the search will be provided.
Free to attend, registration required.
Details
We will meet at 10:00am at the Main Entrance at Fifth Avenue and 25th Street. The initial foray will last until 11:30am, when we will gather back at the gate, review our finds, and finish the foray around 12pm.  For those who are familiar with Green-Wood, we will assign sections of the Cemetery to make sure we cover the entire 478 acres. And we encourage participants to continue the Mycoblitz through the weekend and into Monday! We will have folks with plenty of myco-expertise reviewing finds that are posted. We will post details on the Green-Wood Fungi Phenology Project home page as we get closer to the event.
To prepare for the mycoblitz
Mandatory Safety Protocols
Attendees must wear a face covering at all times and maintain at least a 6-foot distance from those not in their group.
The tour guide will be using a voice amplifier to ensure all social-distancing protocols are adhered to.
The walk is over hilly and uneven terrain, comfortable footwear is encouraged.
Follow ALL instructions and guidance from Cemetery staff and ambassadors.
Travel Safely: Green-Wood recommends following all safety precautions while traveling to and from the Cemetery, whether by foot, mass transit, or driving. If taking mass transit, please check the MTA's guidelines.
Feeling Sick? Stay home if you are feeling sick or running a temperature. Please use good judgement if you have recently been exposed to someone with COVID-19. For more information about COVID-19, please check the CDC website.
Green-Wood reserves the right to deny entry to any visitor who refuses to comply with the safety guidelines.
If you observe a situation or behavior that does not reflect these protocols, please advise an ambassador or other staff member immediately. With everyone's cooperation this will be a memorable and safe unique experience.